3H-Deprenyl and 3H-PIB autoradiography show different laminar distributions of astroglia and fibrillar β-amyloid in Alzheimer brain
Journal of Neuroinflammation
2013
10:861
Received: 22 April 2013
Accepted: 1 July 2013
Published: 23 July 2013
Abstract
Background
The pathological features in Alzheimer's disease (AD) brain include the accumulation and deposition of β-amyloid (Aβ), activation of astrocytes and microglia and disruption of cholinergic neurotransmission. Since the topographical characteristics of these different pathological processes in AD brain and how these relate to each other is not clear, this motivated further exploration using binding studies in postmortem brain with molecular imaging tracers. This information could aid the development of specific biomarkers to accurately chart disease progression.
Results
In vitro binding assays demonstrated increased [3H]-PIB (fibrillar Aβ) and [3H]-PK11195 (activated microglia) binding in the frontal cortex (FC) and hippocampus (HIP), as well as increased binding of [3H]-l-deprenyl (activated astrocytes) in the HIP, but a decreased [3H]-nicotine (α4β2 nicotinic acetylcholine receptor (nAChR)) binding in the FC of AD cases compared to age-matched controls. Quantitative autoradiography binding studies were also performed to investigate the regional laminar distributions of [3H]-l-deprenyl, [3H]-PIB as well as [125I]-α-bungarotoxin (α7 nAChRs) and [3H]-nicotine in hemisphere brain of a typical AD case. A clear lamination pattern was observed with high [3H]-PIB binding in all layers and [3H]-deprenyl in superficial layers of the FC. In contrast, [3H]-PIB showed low binding to fibrillar Aβ, but [3H]-deprenyl high binding to activated astrocytes throughout the HIP. The [3H]-PIB binding was also low and the [3H]-deprenyl binding high in all layers of the medial temporal gyrus and insular cortex in comparison to the frontal cortex. Low [3H]-nicotine binding was observed in all layers of the frontal cortex in comparison to layers in the medial temporal gyrus, insular cortex and hippocampus. Immunohistochemical detection in the AD case revealed abundant glial fibrillary acidic protein positive (GFAP+) reactive astrocytes and α7 nAChR expressing GFAP+ astrocytes both in the vicinity and surrounding Aβ neuritic plaques in the FC and HIP. Although fewer Aβ plaques were observed in the HIP, some hippocampal GFAP+ astrocytes contained Aβ-positive (6 F/3D) granules within their somata.
Conclusions
Astrocytosis shows a distinct regional pattern in AD brain compared to fibrillar Aβ, suggesting that different types of astrocytes may be associated with the pathophysiological processes in AD.
Keywords
Alzheimer's diseasePostmortem brainLaminar pathologyAstrogliosisMicrogliosisFibrillar amyloidNicotinic acetylcholine receptorsPIBQuantitative autoradiography
Introduction
The gradual accumulation of β-amyloid (Aβ) peptides in the brain, varying in size and state of aggregation, is suggested to play a central role in Alzheimer's disease (AD), triggering a cascade of neurodegenerative changes in the brain. These include neurofibrillary tangle formation, the activation and exacerbation of inflammatory processes, impairment of neurotransmitter signaling, and the perturbation of synaptic functions resulting in the death of neurons in brain areas associated with learning and memory [1, 2].
The rapid development of molecular imaging in the past decade has provided valuable new tools for the understanding of complex disease mechanisms in AD. Positron emission tomography (PET) imaging of the brain using amyloid tracers has provided evidence that the accumulation of fibrillar Aβ in the brain occurs early on in the disease course, preceding progressive changes in metabolic activity and structure, which occur closer to the manifestation of clinical symptoms in AD [3–9].
AD-associated inflammation has been widely described by pathological examination of brain tissue from AD patients demonstrating abundant activated microglia in Aβ plaques and increased numbers of reactive astrocytes surrounding Aβ plaques [10–15]. However, it is not clear whether the inflammatory response detected in postmortem brain was a cause or a consequence of disease progression. It is suggested that the inflammatory processes in AD may have contrasting roles where, for instance, activated glia not only eliminate Aβ plaques via phagocytosis but may also initiate a proinflammatory cascade that results in the release of potentially neurotoxic substances such as cytokines, complement components, various free radicals, and nitric oxide, all of which may contribute to further neuronal dysfunction and cell death [16]. Findings from the most recent multitracer PET studies in patients with mild cognitive impairment (MCI) and mild AD indicate that astrocytosis is similar to Aβ accumulation, an early phenomenon in AD, but follows a different spatial and temporal pattern than fibrillar Aβ deposition and impaired synaptic activity as measured by glucose metabolism [17].
Although in vivo imaging methods provide valuable quantitative information with regards to disease progression and understanding the complex pathology in AD neurodegeneration, it is also important to study in autopsy brain how the different pathological processes are related.
In the present study, we investigated the relationship between regional neuroinflammatory processes, fibrillar Aβ deposition, and disturbances in cholinergic neurotransmission in AD brain. Binding studies were carried out in postmortem brains from a group of age-matched AD and non-demented control cases with the radioligands [3H]-l-deprenyl (activated astrocytes), [3H]-PIB (fibrillar Aβ), [3H]-PK11195 (microglia) as well as [125I]-α-bungarotoxin (α7 nicotinic receptors, nAChRs) and [3H]-nicotine (α4β2 nAChRs). We also applied an in vitro imaging multitracer concept in order to characterize and compare the laminar distributions of activated astrocytes, fibrillar Aβ, as well as α7 and α4β2 nAChRs in hemisphere brain sections of an AD patient who was clinically followed at regular intervals until death.
Results
Comparison of binding levels for fibrillar amyloid, reactive astrocytes, and activated microglia in relation to α4β2 and α7 nicotinic receptors in AD and control brain
Significantly higher binding levels of [
3
H]-PIB were measured both in the frontal cortex (
P
<0.0007) and in the hippocampus (
P
<0.002) of AD cases compared to age-matched controls (Figure
1
A,F). Similarly, significant increases in the binding of [
3
H]-
l
-deprenyl in the hippocampus (
P
<0.03) and [
3
H]-PK11195 in the frontal cortex (
P
<0.002) were observed in AD cases (Figure
1
C,G). [
3
H]-Nicotine binding was significantly reduced in the frontal cortex (
P
<0.02) of AD cases (Figure
1
D), while no significant changes in [
125
I]-α-bungarotoxin binding were observed in either the frontal or hippocampus of AD cases relative to controls (Figure
1
E,J).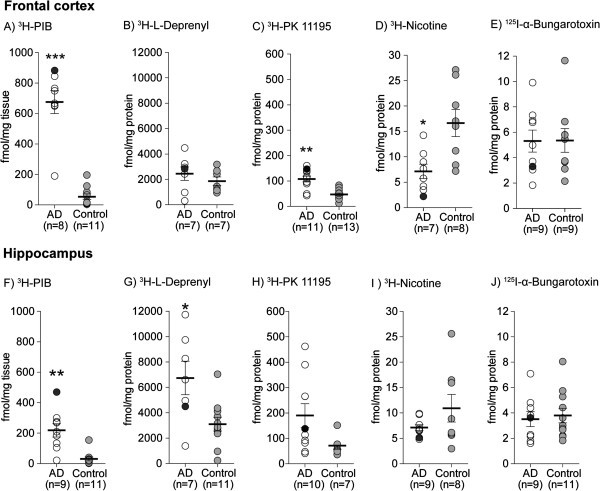 Laminar autoradiographical distributions fibrillar amyloid, reactive astrocytes, and nicotinic receptor subtypes in AD brain
Autoradiography binding in coronal hemisphere brain sections from the AD case showed varied distribution profiles for [
3
H]-PIB, [
3
H]-
l
-deprenyl, [
3
H]-nicotine, and [
125
I]-α-bungarotoxin as illustrated in the pseudocolored images in Figure
2
.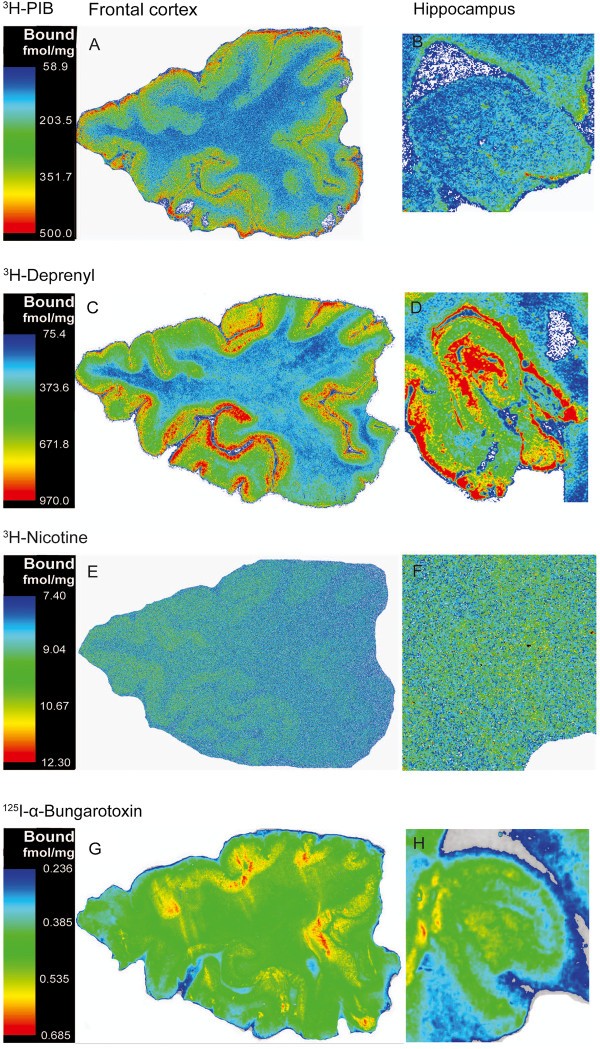 Next, we quantified the laminar distributions for each ligand in different layers of the cerebral cortex. [
3
H]-PIB showed high binding (350 to 500 fmol/mg tissue) in all layers of the superior frontal cortex (Figure
3
A), while in contrast, [
3
H]-
l
-deprenyl binding showed high binding levels (400 fmol/mg tissue) only in the superficial layers (lamina I and II) of the frontal cortex (Figure
3
B). The medial temporal gyrus and insular cortex exhibited similar high [
3
H]-
l
-deprenyl binding densities (400 fmol/mg tissue) in all layers, and equivalent lower [
3
H]-PIB binding densities (150 to 250 fmol/mg tissue) (Figures
4
A,B and
5
A,B). Among the cortical regions, the frontal cortex showed lower [
3
H]-nicotine binding (2 fmol/mg tissue), and more equal laminar binding in comparison to both the medial temporal gyrus and insular cortex (Figures
3
C,
4
C and
5
C). The [
125
I]-α-bungarotoxin autoradiograms showed high background levels in cortical regions, which prevented further quantitative analysis of the specific binding (data not shown).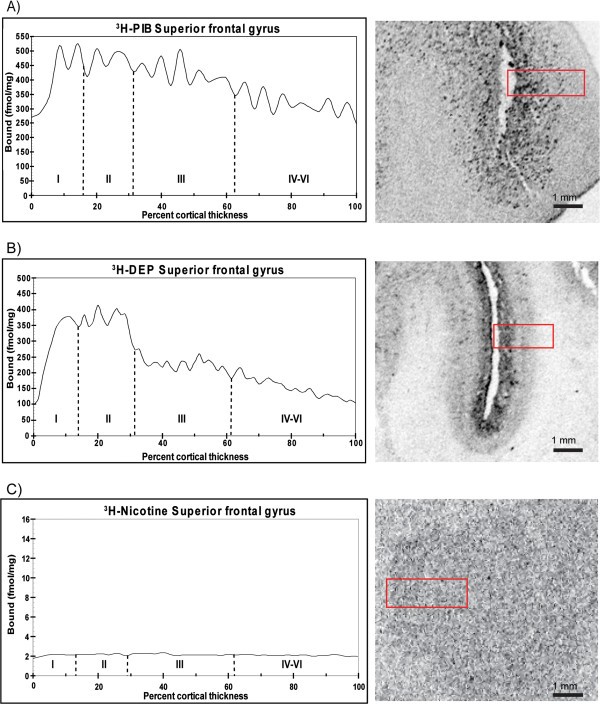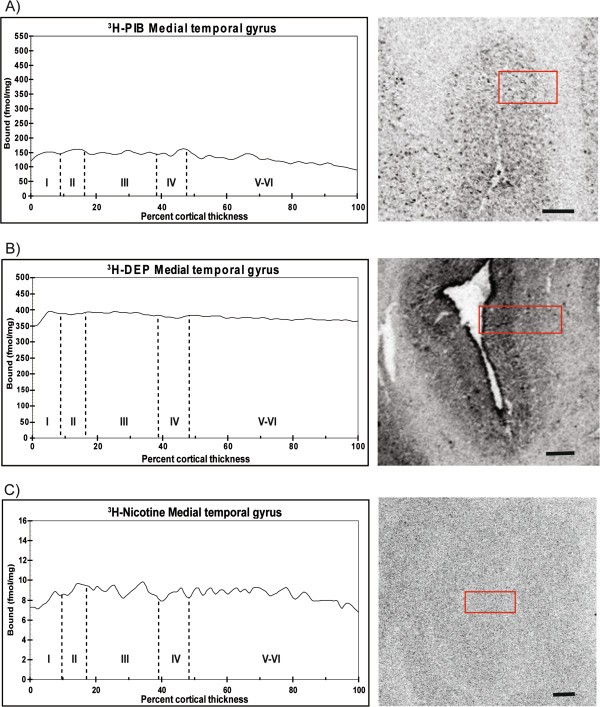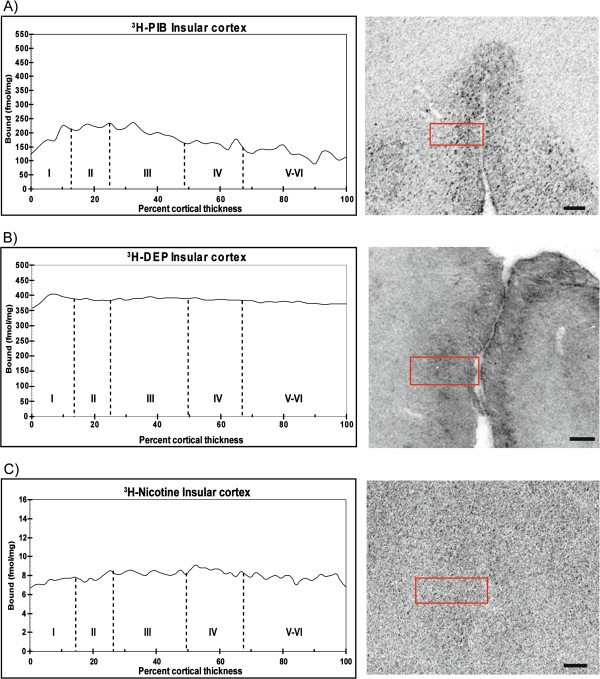 The hippocampal subregions examined are delineated in Figure
6
A. [
3
H]-PIB showed low and uniform binding (180 to 200 fmol/mg tissue), while [
3
H]-
l
-deprenyl showed uniformly high binding (400 fmol/mg tissue) throughout the hippocampus (Figure
6
B,C). [
125
I]-α-Bungarotoxin binding was observed mainly in the dentate gyrus, in contrast to [
3
H]-nicotine binding (Figure
6
D,E).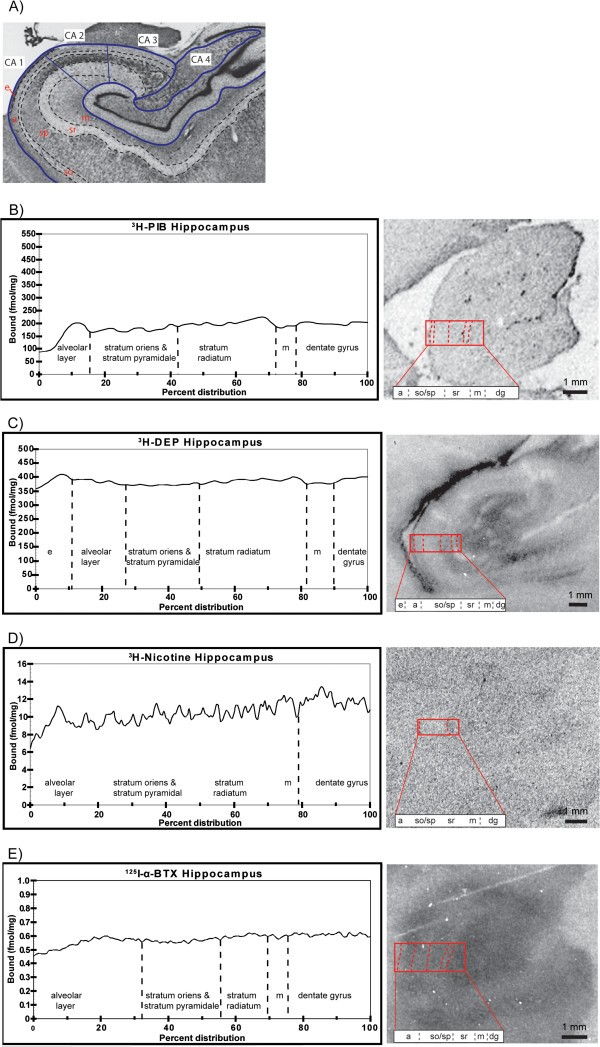 Topographical distributions of reactive astrocytes within the frontal cortex and hippocampus of AD brain by immunohistochemical staining
Neuropathological confirmation of the AD case showed characteristic AD neurodegenerative changes (deposition of Aβ and phosphorylated tau protein, the presence of activated microglia and reactive astrocytes) in the brain (Additional file 1: Figure S1).
To relate the laminar [
3
H]-
l
-deprenyl autoradiography binding, the distribution of reactive astrocytes within different layers of the frontal cortex and hippocampal subregions in the single AD case was examined by immunohistochemistry with GFAP as a marker for astrocytosis. Differences in the localization and intensity of GFAP immunoreactive cells were found both within each region as well as between the regions (Figure
7
). The distribution in the frontal cortex revealed a layer-specific localization of GFAP
+
cells exhibiting heterogeneous morphologies (Figure
7
A). A uniform distribution of reactive astrocytes with small somata and dense staining of GFAP
+
neuropil was detected in the superficial (Figure
7
B). In the deeper layers, GFAP
+
astrocytic somata and densely stained neuropil were concentrated around Aβ plaques (Figure
7
C). GFAP
+
astrocytes were distributed more evenly in the cortical layer bordering the white matter (lamina VI), and very few Aβ plaques were observed in this region (Figure
7
D).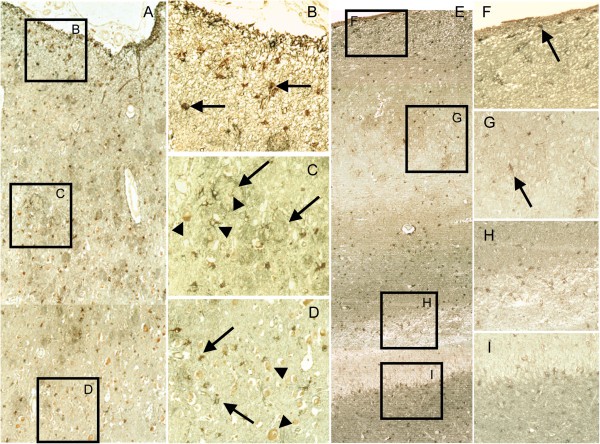 A different staining pattern was observed in the hippocampus, where both GFAP+ astrocyte somata and processes surrounding 6 F/3D-positive Aβ plaques and GFAP+ astrocytes containing intracellular vesicles with 6 F/3D aggregates detected (Additional file 2: Figure S2).
In the CA1 alveus and stratum oriens of the hippocampus, we observed intensely stained small somata of GFAP + astrocytes with immunoreactivity for α7 nAChRs as well as dense GFAP + /α7 nAChR-positive cellular networks (Figure 7E,F). Throughout the CA1 stratum pyramidal, large somata of GFAP + astrocytes displaying no immunoreactivity for α7 nAChRs were found as well as dispersed GFAP + network fibers (Figure 7G). Differences in the intensity of immunoreactivity and the number of GFAP+ astrocytes were detected in the CA1 stratum lacunosum-molecular and the molecular layer of the dentate gyrus (Figure 7H). In the granular layer, light brown stained somata of GFAP + astrocytes and weakly stained GFAP+ network fibers (top layer) were accompanied by very strong staining of α7 nAChR positive/GFAP+ astrocytes (gray hue, bottom layer) (Figure 7I).
Discussion
Aβ deposition in the brain is a pathological hallmark of AD. In the present study in vitro binding studies in tissue homogenates showed significantly higher [3H]-PIB binding in the brain of a cohort of AD subjects compared to non-demented controls and thereby confirmed earlier observed high in vivo 11C-PIB PET retention in cortex of AD patients compared to healthy controls [3]. Furthermore, in the current study in vitro imaging of the cortical laminar distribution pattern for fibrillar Aβ with [3H]-PIB autoradiography in a single AD case showed high binding in all layers of the frontal cortex. Earlier observations from quantitative immunohistochemical studies in AD autopsy brain have revealed high Aβ-plaque densities in layers II and III of the temporal and occipital cortices, while lower densities were reported in layers V and IV [10, 28–31], but with larger plaque size in layer V [10], suggesting that Aβ plaque deposition may be intricately linked with cortical organization. Since 3H-PIB has been found to bind to multiple binding sites in AD frontal cortex; this could underlie the differences between 3H-PIB binding data and quantitative morphological measurement of Aβ plaques [10, 32].
The detection of cerebral β-amyloidosis in vivo in patients with PET amyloid imaging tracers such as [11C]-PIB have been shown to correlate well with levels of fibrillar Aβ measured in AD brain at autopsy [6, 33]. Measurement of the distribution of [11C]-PIB retention based on cytoarchitectonic subtypes of the cerebral cortex demonstrated that the neocortex with more fully laminar differentiation showed abundant [11C]-PIB retention, while phylogenetically older limbic areas, such as the allocortex and the periallocortex, with fewer laminae appeared less vulnerable to [11C]-PIB retention, when comparing AD patients with healthy control subjects [34]. Non-random Aβ plaque distribution within cortical areas could imply that specific neurons or spatial arrangements of neuronal networks can serve as a substrate for plaque aggregation, where factors such as the regional concentration of Aβ, in turn determines the amount of plaque load in a given area, while the local architectonics of the cortex determines the distribution pattern among brain regions. This differential cytoarchitectonic vulnerability to Aβ deposition may underlie the progressive neuropathological alterations involved in the hierarchical organized central nervous system in the pathogenesis of AD.
Different forms of Aβ in the brain can elicit activation and recruitment of microglia and astrocytes. These cells play a central role in the cellular response to pathological lesions and exercise both neuroprotective and neurotoxic functions in the brain, mediated by the secretion of cytokines and chemokines and the binding of these to their specific receptors [34–37]. Here, we demonstrated increased levels of both activated microglia and reactive astrocytes in AD frontal cortex and hippocampus as measured by [3H]-PK11195 and [3H]-l-deprenyl binding, respectively. In vivo PET studies with [11C]-PK11195 have demonstrated both increased and unchanged binding in AD patients compare to healthy subjects [38, 39] and there might be different explanations for discrepancies in findings such as different used PET protocols, variation in sensitivity of the PET tracer as well as differences in patient material. Deprenyl is a selective irreversible monoamine oxidase B (MAO-B) inhibitor and is considered to be a sensitive marker for measuring astrocytosis in the brain, since the MAO-B enzyme is upregulated in reactive astrocytes, giving rise to increased regional uptake of deprenyl [40]. A strong correlation between [3H]-l-deprenyl binding and MAO-B activity in both AD and non-demented control autopsy brain tissue has previously been reported [41, 42]. Interestingly enough in vivo PET studies have shown higher 11C-deuterium-l-deprenyl binding in brain of patients with mild cognitive impairment (MCI) than AD and controls [17]. The observation might indicate a difference in astrocytes' properties in early and later stages of disease. In the present study, we observed a regional difference between [3H]-l-deprenyl and [3H]-PK11195 in increase in binding sites in AD brains in comparison to control brains. Interestingly, [3H]-l-deprenyl laminar binding in the single AD case was found to be relatively higher in the superficial cortical layers of the frontal cortex in comparison to binding in the deeper cortical layers. Immunohistochemical staining in the same AD case confirmed abundant GFAP+ reactive astrocytes surrounding Aβ plaques in the superficial layers of the frontal cortex. These findings are in agreement with earlier reports on the pattern of gliosis in AD in layers II to III and V [15].
It has been claimed that neurofibrillary tangles and Aβ plaques should favor the same cortical layers as astroglia [10, 30, 31, 43]. The laminar pattern of [3H]-PIB binding in cortex may thus suggest binding to additional forms of Aβ than plaques. The high binding of both [3H]-PIB and [3H]-deprenyl in the frontal cortex suggests that there may be a close regional association between elevated astroglia and fibrillar Aβ deposition, which is consistent with our earlier observations in which a positive correlation between regional brain [11C]-PIB retention, [3H]-PIB binding, and the total number of GFAP+ immunoreactive astrocytes was found in the same patient [6].
The hippocampus, however, revealed a different laminar pattern, where high [3H]-l-deprenyl, but low [3H]-PIB binding densities were observed in all hippocampal subregions. The observation is in agreement with the low amyloid but high gliosis in the hippocampus as described by Beach and colleagues [15]. The hypothesis of Rogers and Morrison [10] predict a cascade of pathology wherever there is a cascade of convergent cortical input, and this is precisely the case Hyman et al. [44], showed with their findings of cell-specific pathology isolates the hippocampal formation in AD cases. Soluble Aβ oligomers have received much attention and it is argued that these assemblies play a major role in mediating neuronal damage in comparison to their insoluble counterparts [1, 45]. It is not known whether the concentration of Aβ oligomers or intracellular Aβ is significantly greater in the hippocampus compared to cortical regions since studies to date characterizing various Aβ oligomer assemblies in AD postmortem brain, have mostly been performed using cortical brain extracts [46–48]. Non-fibrillar Aβ aggregates are not readily detected in vivo with the currently available amyloid PET tracers, and it is possible that these soluble assemblies could underlie the increased astrogliosis detected within the hippocampus in the current study.
Astrocytes can take up Aβ in complex with apolipoprotein E (ApoE) as well as degrade Aβ by neprilysin [49–51]. Different types of astroglial cells can be distinguished in AD brain, including reactive, hypertrophic astrocytes in the vicinity of Aβ plaques [10] and neurofibrillary tangles (NFTs) [52], Aβ-containing astrocytes that may possibly be involved in the removal of diffuse plaques and fleecy amyloid [29, 53, 54], and functionally impaired astrocytes with deficits in gene or protein expression [49]. Atrophy of astrocytes occurring in the early stage of AD is suggested to influence synaptic function and cognition [55].
Neuropathological changes in the brain during the course of AD may disrupt the columnar organization of the cerebral cortex, which in turn result in changes in interlaminar astrocytic processes and modulation of their function [15, 56]. A decline in regional cerebral glucose metabolism, determined by [18F]-fluorodeoxyglucose (FDG) PET, in an AD patient 16 months before death correlated with cortical neuronal loss and with intense staining of GFAP+ cells in cortical areas at autopsy [57].
In addition to their role in neuroinflammatory processes, astrocytes in the central nervous system also provide structural and trophic support and are actively involved in the regulation of neuronal and synaptic activity with the purpose of maintaining overall brain homeostasis [58, 59]. Astrocytes that undergo both morphological and structural changes during AD neurodegeneration neglect their neurosupportive functions as pathogenesis advances, rendering neurons vulnerable to excitotoxicity and oxidative stress [49, 50, 60, 61]. Therefore, it is likely that a strong inflammatory response triggered by the neurodegenerative changes in the AD brain, accelerate and drive the degenerative pathology, contributing to disease progression and chronicity.
An increase in regional [3H]-l-deprenyl binding was recently reported in autopsy cases with lower Braak stages compared to cases with higher Braak stages [62]. However, astrocytosis is a complex process and poorly understood. Whether the reactive astrocytes in AD brain can adopt different states of activation and whether increased MAO-B activation in vivo or [3H]-l-deprenyl binding in vitro reflects a certain type of astrocytes warrants future study.
In a recent study using rodent models of ischemic stroke and neuroinflammation, Barres and colleagues performed gene expression profiling analysis of populations of reactive astrocytes isolated at various time points after induction, and demonstrated that reactive astrocyte phenotype strongly depended on the type of inducing injury [63].
The different laminar distribution patterns for Aβ and astrocytosis in AD brain regions demonstrated in the present study are indicative of two parallel processes, which may follow a different time course, and show a regional variability that depends on the initiating insult triggered in specific areas of the brain. Although the postmortem imaging findings reported here were in line with the homogenate binding studies, a weakness of the current study is that the autoradiographical investigation was carried out in solely a single AD case subject. However, this kind of technique examining laminar distributions in detail is a lengthy and time consuming process, and does not allow simultaneous processing of many cases. Our present findings in hemisphere brain have also been validated in small tissue sections and gave similar findings although the resolutions in the smaller sections were lower (data not shown).
A growing number of studies have pointed to an involvement of brain nAChRs and neuroinflammatory processes in Aβ pathology. Both neurons and glia cells express several nAChRs including the two major subtypes in the brain, namely α4β2 and α7 nAChRs [64]. Earlier, we demonstrated that a reduction of α4β2 nAChRs in AD cortex is associated with high levels of fibrillar Aβ as well as higher molecular weight oligomeric Aβ assemblies [6, 46]. Interestingly, we observed in the present study that increased distribution of fibrillar Aβ in the frontal cortex was associated with lower laminar [3H]-nicotine binding compared to other cortical regions, suggesting that Aβ may induce a selective vulnerability of some areas of cortical projections in the brain involving specific or discrete neural systems.
While there is a reduced density of α7 nAChRs on neuronal cells, an increased number of these receptors have been found on astrocytes as measured in AD autopsy brains [27, 65, 66]. It is known that astrocytes modulate neuronal activity partly via ion channels and through the neurotransmitter receptors they express [67]. The α7 nAChRs expressed on astrocytes could, thus, influence the excitability of astrocytes and their ability to propagate Ca2+-mediated signaling mechanisms. The amount of soluble and/or non-soluble Aβ forms as well as their internal versus external localization [68] in different brain regions could also influence intermediate processes between α7 nAChRs, glia and neurons, as implicated by recent findings from our group [6, 69].
Conclusions
In summary, we demonstrate an elevation in astrogliosis both in areas with high and low fibrillar Aβ burden and greater atrophy, which may suggest that different types of reactive astrocytes are associated with the pathophysiological processes in the AD brain. It is important to continue to study these processes in vivo, in order to obtain a better understanding of how astrocytes interact with neuronal network function, and to resolve whether these cells contribute to cognitive decline in AD.
Declarations
Acknowledgments
This work was supported by grants from the Swedish Research Council (project 05817), Swedish Brain Power, Stockholm County Council-Karolinska Institutet (ALF grant), the Karolinska Institutet Strategic Neuroscience Program, the Swedish Brain Foundation, The EC FP& project DIMI, LSHB CT2005-512146, the European Union's Seventh Framework Programme (FP7/2007-2013) under grant agreement n° Health-F2-2011-278850 (INMiND), the Alzheimer Foundation in Sweden, the Magnus Bergvalls Foundation, The Dementia Association, the Foundation for Old Servants, Gun and Bertil Stohnes Foundation, Ragnhild och Einar Lundströms Memorial Foundation, Karolinska Institutet's Foundation for Aging Research, the Lars Hierta Memorial Foundation, Loo and Hans Ostermans Foundation, and the Olle Engkvist Byggmästare Foundation. The funders had no role in study design, data collection and analysis, decision to publish, or in preparation of the manuscript. We thank Professor Göran Sperber, Department of Neuroscience, Uppsala University for developing the software used for evaluation of laminar binding profiles and his kind help with the set up of the equipment for the analysis; Professor Ingvar Brant, Department of Environmental Toxicology, Uppsala University for facilitating the equipment for large cryotissue sectioning; Dr Anders Juréus, Neuroscience Research and Therapy, Astra Zeneca Research and Development, Södertälje, for helpful assistance with the phosphor imaging scanning operations; and Dr Ahmadul Kadir, Alzheimer Neurobiology Center, Karolinska Institutet, for his kind help with figure preparations and fruitful discussions.
Authors' Affiliations
(1)
Alzheimer Neurobiology Center, Department of Neurobiology, Care Sciences and Society, Karolinska Institutet, Stockholm, Sweden
(2)
Department of Geriatric Medicine, Karolinska University Hospital Huddinge, Stockholm, Sweden
(3)
Department of Pathology, Karolinska University Hospital Huddinge, Stockholm, Sweden
(4)
Douglas Mental Health University Institute, Department of Psychiatry, McGill University, Montreal, Canada
Copyright
© Marutle et al.; licensee BioMed Central Ltd. 2013
This article is published under license to BioMed Central Ltd. This is an Open Access article distributed under the terms of the Creative Commons Attribution License (http://creativecommons.org/licenses/by/2.0), which permits unrestricted use, distribution, and reproduction in any medium, provided the original work is properly cited.