Corticosteroids reverse cytokine-induced block of survival and differentiation of oligodendrocyte progenitor cells from rats
Journal of Neuroinflammation
2008
5:39
Received: 30 October 2007
Accepted: 22 September 2008
Published: 22 September 2008
Abstract
Background
Periventricular leukomalacia (PVL) is a frequent complication of preterm delivery. Proinflammatory cytokines, such as interferon-γ (IFN-γ) and tumor necrosis factor α (TNF-α) released from astrocytes and microglia activated by infection or ischemia have previously been shown to impair survival and maturation of oligodendrocyte progenitors and could thus be considered as potential factors contributing to the generation of this disease. The first goal of the present study was to investigate whether exposure of oligodendrocyte precursors to these cytokines arrests the maturation of ion currents in parallel to its effects on myelin proteins and morphological maturation. Secondly, in the search for agents, that can protect differentiating oligodendrocyte precursor cells from cytokine-induced damage we investigated effects of coapplications of corticosteroids with proinflammatory cytokines on the subsequent survival and differentiation of oligodendrocyte progenitor cells.
Methods
To exclude influences from factors released from other cell types purified cultures of oligodendrocyte precursors were exposed to cytokines and/or steroids and allowed to differentiate for further 6 days in culture. Changes in membrane surface were investigated with capacitance recordings and Scanning Ion Conductance Microscopy. Na+- and K+- currents were investigated using whole cell patch clamp recordings. The expression of myelin specific proteins was investigated using western blots and the precursor cells were identified using immunostaining with A2B5 antibodies.
Results
Surviving IFN-γ and TNF-α treated cells continued to maintain voltage-activated Na+- and K+ currents characteristic for the immature cells after 6 days in differentiation medium. Corticosterone, dihydrocorticosterone and, most prominently dexamethasone, counteracted the deleterious effects of IFN-γ and TNF-α on cell survival, A2B5-immunostaining and expression of myelin basic protein. The most potent corticosteroid tested, dexamethasone, was shown to counteract cytokine effects on membrane surface extension and capacitance. Furthermore, coapplication of dexamethasone blocked the cytokine-induced downregulation of the inwardly rectifying potassium current in 80% of the precursor cells and restored the cytokine-blocked down-regulation of the voltage activated Na+- and K+ currents during subsequent differentiation.
Conclusion
Our results show that treatment of oligodendrocyte precursors with the inflammatory cytokines TNF-α and IFN-γ block the differentiation of oligodendrocyte precursors at the level of the differentiation of the voltage-gated ion currents. Co-treatment with corticosteroids at the time of cytokine application restores to a considerable extent survival and differentiation of oligodendrocytes at the level of morphological, myelin protein as well as ion current maturation suggesting the option for a functional restoration of cytokine-damaged immature oligodendrocytes.
Keywords
DexamethasoneMyelin Basic ProteinMyelin ProteinProliferation MediumOligodendrocyte Precursor Cell
Background
Perinatal brain injury is frequently associated with periventricular leukomalacia (PVL), a condition characterised by disrupted myelination due to loss of oligodendrocyte progenitors [1]. In addition to hypoxic-ischemic brain damage an increased incidence of PVL in very premature fetuses has recently been related to immune responses in the brain [2–5]. For instance, in autopsies of children with PVL increased numbers of reactive interferon-γ (INF-γ) positive astrocytes have been found [6]. Studies performed in cell cultures from postnatal rat brain have shown that the inflammatory cytokines tumor necrosis factor-α (TNF-α) and IFN-γ not only induce apoptotic cell death but additionally prevent the morphological differentiation of oligodendrocyte progenitors as well as the expression of myelin-specific proteins [7–11] confirming the possible involvement of these factors in the generation of PVL.
In addition to expressing characteristic myelin proteins, such as myelin basic protein (MBP), myelin-associated glycoprotein (MAG) and 2',3' cyclic nucleotide 3'phosphodiesterase (CNP), mature oligodendrocytes differ in their pattern of ion channel expression from precursor cells. Whereas precursor cells express, among others, voltage-activated sodium and delayed K+ currents these current types are down-regulated in the course of differentiation [12, 13]. In differentiated oligodendrocytes the predominant current is an inwardly rectifying K+-current [14]. The outward rectifier K+-current, prominent in A2B5 progenitor cells, has been implicated in glial cell proliferation [15–18]. The inward rectifier is regarded as the prominent current involved in the removal of extracellular K+ released out of active neurons and serves to maintain the negative resting membrane potential. By limiting extracellular K+ activity transients it is responsible for some of the physiological functions of the mature cell (see e.g. [19]). It is so far unknown, whether the maturation block by TNF-α and IFN-γ affects the developmental down-regulation of voltage-activated ion channels as well.
Additionally, a first step in the search for a potential treatment of PVL would be to find factors that prevent the damaging effects of cytokines on the survival and differentiation of oligodendrocyte progenitor cells. Corticosteroids have been reported to exert beneficial effects in demyelinating diseases that are associated with the release of various cytokines. For instance, in acute flare-ups of multiple sclerosis, glucocorticoid treatment may reduce the severity of symptoms and speed up the recovery [20, 21]. In fact, application of corticosteroids has been shown to protect mature oligodendrocytes from apoptosis induced by TNF-α and IFN-γ [22]. Since in PVL predominantly oligodendrocyte precursors are damaged we now extended these investigations by analyzing whether corticosteroids exert a protective effect on survival, protein expression, morphological and ion current maturation in cytokine-treated oligodendrocyte progenitor cells. In a preceding investigation on purified oligodendrocyte progenitors we had observed in accordance with [9] and [22], that a combination TNF-α and IFN-γ is far more potent in inducing apoptosis than either factor in separation. In the present study we thus used the cytokine concentrations previously shown to result in a survival of about 10% of the cells, containing about 35% A2B5 positive cells following six days of differentiation in culture [10].
Methods
Cell culture
Primary cultures of mixed glial cells were prepared from brains of 1–3-day-old Sprague-Dawley rats according to procedures described previously [23]. After decapitation the brains were transferred to a culture dish containing PBS (phosphate buffered saline: 138 mM NaCl, 8.1 mM Na2HPO4, 2.7 mM KCl, 1.47 mM KH2PO4), freed of the meninges, and mechanically disrupted by passing through a 125 μm and a 36 μm nylon mesh, respectively. After centrifugation of the cell suspension (10 min, 900 rpm at 4°C) the cell pellet was resuspended in DMEM/HAM's F12 (1:1) supplemented with 10% heat-inactivated fetal calf serum (FCS), 100 U/ml penicillin and 100 μg/ml streptomycin. Single cell suspensions were transferred to culture flasks (ca. 1.5 brains per 75-cm2 flask) and preincubated at 37°C in a humidified atmosphere of air/5% CO2. The medium was changed first after three days in vitro and on alternate days thereafter.
After a pre-culture period for 8–11 days the cellular debris and microglia growing loosely on top of the mixed glia monolayer were removed by shaking the culture flasks for 3 h at 190 rpm. After discarding the supernatant the monolayer was washed once with phosphate buffered saline, and fresh medium was added. The phase dark cells (representing oligodendrocyte progenitors) growing on the astrocyte layer were separated by prolonged shaking at 190 rpm for 16–18 h.
The suspension was collected and centrifuged for 5 min at 1700 rpm. The pellet was resuspended (3 ml per brain) and preplated onto 10 cm2 plastic dishes, to which endothelial cells, microglia and fibroblasts attached, that had been removed by the shaking procedure in addition to the oligodendrocyte precursors. After 45 min the non-adherent cells were replated onto glass coverslips coated with 0.25 mg/ml poly-D-lysin (105 cells per coverslip). After 1 h the medium was changed to proliferation medium (neurobasal medium (NB) + B27-supplement without antioxidants (both from Life Technologies GmbH, Karlsruhe, Germany) + 10 ng/ml PDGF + 10 ng/ml bFGF (both from R&D Systems, Wiesbaden, Germany)). More than 90% of the cells in culture were oligodendrocyte progenitors, as assessed by immunostaining for A2B5. Three days after plating the cells were transferred into differentiation medium (NB + B27-supplement without antioxidants + 10 ng/ml ciliary neurotrophic factor (CNTF) + 5 μm forskolin + 45 nM triiodo-L-thyronine (T3)) [24] and cultured under these conditions with a complete medium change every two days.
At 24 h after seeding parts of the cultures were treated with cytokines (recombinant rat IFN-γ (10 U/ml) and TNF-α (10 ng/ml), both R&D Systems, Wiesbaden, Germany) and/or corticosteroids (corticosterone (CS), deoxycorticosterone (DC) and dexamethasone (D), 1 μM each, Sigma Aldrich GmbH, Taufkirchen, Germany). After 48 hours treatment was terminated by transferring cells into differentiation medium containing no cytokines and/or corticosteroids. Cells of the control groups were kept under identical experimental conditions except for the application of cytokines and/or corticosteroids. Experiments were performed at day 6 after transfer into the differentiaton medium.
Immunocytochemistry
The antibody used to characterise oligodendrocyte progenitors was the monoclonal anti-A2B5 antibody (MAB312R from Chemicon International, Hofheim, Germany). At day 9 after seeding cells growing on 12 mm coverslips were washed three times in phosphate buffered solution (PBS), fixed for 20 min in 4% paraformaldehyde in PBS and washed again three times in PBS.
Nonspecific sites were blocked in PBS containing 3% goat serum and 0.1% BSA. Then cells were exposed to the antibody solution, 1:200 in PBS/1% goat serum (Sigma Aldrich GmbH, Taufkirchen, Germany) for 1 h at room temperature. After exposure to the primary antibody, cells were washed three times with PBS and then incubated for 1 h in Alexa Fluor 488 goat anti-mouse IgM (1:1000 in corresponding buffer/1% goat serum; Molecular Probes Europe, Leiden, Netherlands). Finally cells were washed three times in PBS and the coverslips were mounted on glass microscope slides using Immuno-Fluore™ (ICN Biomedicals GmbH, Eschwege, Germany).
To assess total cell count as well as the percentage of A2B5-positive cells under various culture conditions average cell counts of 25 fields of view from each coverslip were evaluated with a 40× objective using a Zeiss Axioplan microscope. The total cell number was determined by counting process-bearing cells using phase contrast optics.
Determination of cell volume and membrane surface
Cell surface and volume measurements were performed by scanning ion conductance microscopy [25, 26] in the back-step mode [27, 28]. Glass capillaries (thin walled GB 150-TF 8P, Science Products) where pulled in a two step process to a resistance of 6–8 MΩ when filled with bath solution, corresponding to an opening diameter of approximately 0.5–1 μm. The thin walled glass reduces both the mass of the electrode as well as unintended contacts between electrode and cell membrane at regions of the scanned cells where the slope is high. The large opening diameter additionally ensures an early detection of the approach of the capillary to the cell surface and is thus well suited for fast scans. The scanned area was 30 × 30 μm with a lateral step size of 1 μm and a vertical step size of 50 nm. Backstep size was 7 μm. With this configuration a typical scan of a cell surface took about 4 minutes, allowing scanning of several cells per cover slip. Soma volumes were calculated by summing the products of height and base area (1 μm2) for each point in the xy-plane with a height of at least 2 μm. Cell surfaces were determined as described in [29].
Immunoblot analysis
At 9 days after plating cells were lysed in a buffer containing 50 mM Tris-HCl pH 7.4, 150 mM NaCl, 40 mM NaF, 5 mM EDTA, 1 mM Na3VO4, 1% (v/v) nonidet P40, 0.1% (w/v) sodium desoxycholate, 0.1% (w/v) sodium dodecyl sulfate (SDS), 1 mM phenylmethylsulfonyl fluoride (PMSF) and 10 μg/ml aprotinin. Protein concentrations in cell lysates were determined using the Bio-Rad protein assay kit.
Protein samples (10 μg per lane) were separated by sodium dodecyl sulfate (SDS)-polyacrylamide gel electrophoresis (PAGE) according to the method of Laemmli and blotted onto a nitrocellulose membrane. For detection of myelin basic protein (MBP), 2',3' cyclic nucleotide 3'phosphodiesterase (CNP) and actin we used a 12% gel under reducing conditions. Myelin-associated glycoprotein (MAG) was identified by means of a 8% gel under non-reducing conditions. Then the membrane was blocked with 5% skim milk powder in TBS (25 mM Tris-HCl, 150 mM NaCl, pH 7.5) for 1 h and incubated with suitably diluted primary antibodies for another hour (MAG 1: 10; MAB1567 Chemicon International, Hofheim, Germany/CNP 1:40; MAB326R, Chemicon International, Hofheim, Germany/MBP 1:100; SM1450, DPC Biermann, Bad Nauheim, Germany/actin 1:400; A2066, Sigma Aldrich GmbH, Taufkirchen, Germany). After three washes with TBST (TBS + Tween 20) the membrane was incubated with anti-IgG-alkaline phosphatase conjugate. The blots were finally visualized using ECL detection reagents (Amersham Biosciences Europe GmbH, Freiburg, Germany). Band intensities were analyzed by TINA 2.09 software and normalized to actin.
All experiments were performed at least three times. The numbers of coverslips analysed for each experimental condition are given in the respective figure legends. Values are given as means ± SE.
Electrical recordings
Electrical recordings were performed in the whole cell configuration of the patch clamp technique. Prior to recording coverslips were transferred to a 3.5 cm diameter plastic Petri culture dish containing an extracellular recording solution (ExGlu) of the following composition (in mM): 110 NaCl, 5.4 KCl, 1.8 CaCl2, 0.8 MgCl2, 10 HEPES, 10 Glucose. The osmolarity was the same as that of the culture medium, 250 mOsm, the pH was adjusted to 7.3. Electrodes were pulled with a two-step puller (Narishige PP-830) from borosilicate glass tubing with filament (GB 150-TF 8P, Science Products, Hofheim) and filled with a solution containing (in mM): 100 K-gluconate, 0.1 CaCl2, 1.1 EGTA, 5 MgCl2, 10 HEPES, 3 ATP. The pH of this solution was adjusted to 7.3, the osmolarity was 235 mOsm. A liquid junction potential of this solution with respect to the bath solution of 15 mV was corrected offline. The typical resistance of recording electrodes containing this filling solution amounted to 4–5 MΩ. Recording electrodes were positioned via a 3-axis micromanipulator (M-105, Physics Instruments), which was mounted on a Zeiss IM-35 inverted microscope. Fine positioning of the electrode was controlled with a piezo actuator (DC-Mike M-232, Physics Instruments). The electrodes were connected to the headstage of an EPC7 voltage clamp amplifier (List Medical, Darmstadt, Germany). The generation of voltage protocols and the digital acquisition of currents were performed using PClamp 6 software and a Digitata 1200B AD/DA system (both Axon Instruments). Signals were filtered using the EPC7 10 kHz lowpass filter and then digitized with a sampling rate of 25 kHz. Series resistance errors were minimized by discarding recordings with access resistances of more than 20 MΩ. The formation of a high resistance seal (greater than 2 GΩ in most cases) and rupture of the membrane were monitored using small hyperpolarizing voltage pulses between 1 and 50 mV.
Na+-currents were monitored by a series of test pulses incrementing in 5 mV steps starting from a holding potential of -85 mV. Leakage and capacitive artifacts were subtracted using a P/4 protocol. Na+-current densities were determined from the peak Na+-current at a test potential of -20 mV normalized to the membrane capacitance calculated from the integral of the charging curve for a test potential step of 20 mV after compensation of the electrode capacitance. Voltage-activated K+-currents (Kv) were determined from the average values recorded in the interval between 50–60 ms after onset of a test pulse +25 mV. To eliminate the effect of contaminating inward rectifier K+-currents all Na+- and Kv- currrents were measured in a solution containing 1 mM Ba2+. This treatment had no effect on the amplitudes of the Na+ currents but reduced the outward currents by 47 ± 6% (n = 15) in cells after two days of cytokine treatment and by 49 ± 8% (n = 9) in control cells after 3 days in proliferation medium, corresponding a partial block of outward K+ currents by Ba2+ [30].
Inwardly rectifying K+ currents (KIR) were determined applying a test pulse protocol consisting of a series of test pulses from -175 mV to +20 mV in the absence of automatic leakage and capacitive current subtraction. KIR currents were determined as the Ba2+-blockabale part of the current by applying the same voltage protocol in ExGlu solution first followed by a switch to ExGlu solution supplemented by 1 mM BaCl2, and subtracting the recorded traces for each voltage step. The current density was determined from the difference trace at a test voltage of -135 mV normalized to the cell capacitance calculated from the integral of the charging curve. A cell was regarded as expressing a KIR current when the current exceeded 50 pA. A simple gravity controlled perfusion system was used to apply either ExGlu or KIR-blocking solution through a multibarrel pipette. The perfusion was adjusted initially by monitoring the flow of an ink solution to asssure a complete solution exchange after switching between the two supplies. The liquid level was controlled via an adjustable suction needle, connected to a reversed "Optimal" aquarium pump (Schego, Offenbach, Germany). Cells for surface scanning or electrical recording were selected under phase contrast optics. On day 3 in culture, irrespective of treatment conditions, most cells showed a bipolar morphology and these were selected for recording. One aim of this investigation was to find out, whether cells retaining the bipolar morphology and A2B5 positivity after cytokine treatment followed by 6 days in differentiation medium also maintain the immature ion current pattern or whether voltage-activated cation currents are down-regulated by the incubation in differentiation medium irrespective of the maintenance of the immature morphology of the cells. To this aim recordings on day 9 after seeding in cultures treated with cytokines only were performed on bipolar cells. To test, whether morphologically differentiated cells show a downregulation of voltage-activated Na+ and K+ currents, as expected during normal differentiation of oligodendrocytes, multipolar cells were investigated on day 9 in the three other populations showing more than 90% multipolar cells staining negative for A2B5.
The statistical significance of differences between groups was assessed by ANOVA followed by Tuckey's Post-hoc Test. All data represent mean value ± SE.
Results
The effect of a transient treatment of progenitor cells with cytokines and the effect of a coapplication of corticosteroids on the subsequent differentiation into mature oligodendrocytes were studied using the culture protocol depicted in Figure
1G
. Total cell numbers, percentages of A2B5 immunopositive cells, soma and process volumes and surface areas, membrane capacitances, the expression of myelin specific proteins and voltage activated Na
+
, K
+
as well as inwardly rectifying K
+
currents were evaluated following six days of differentiation in culture.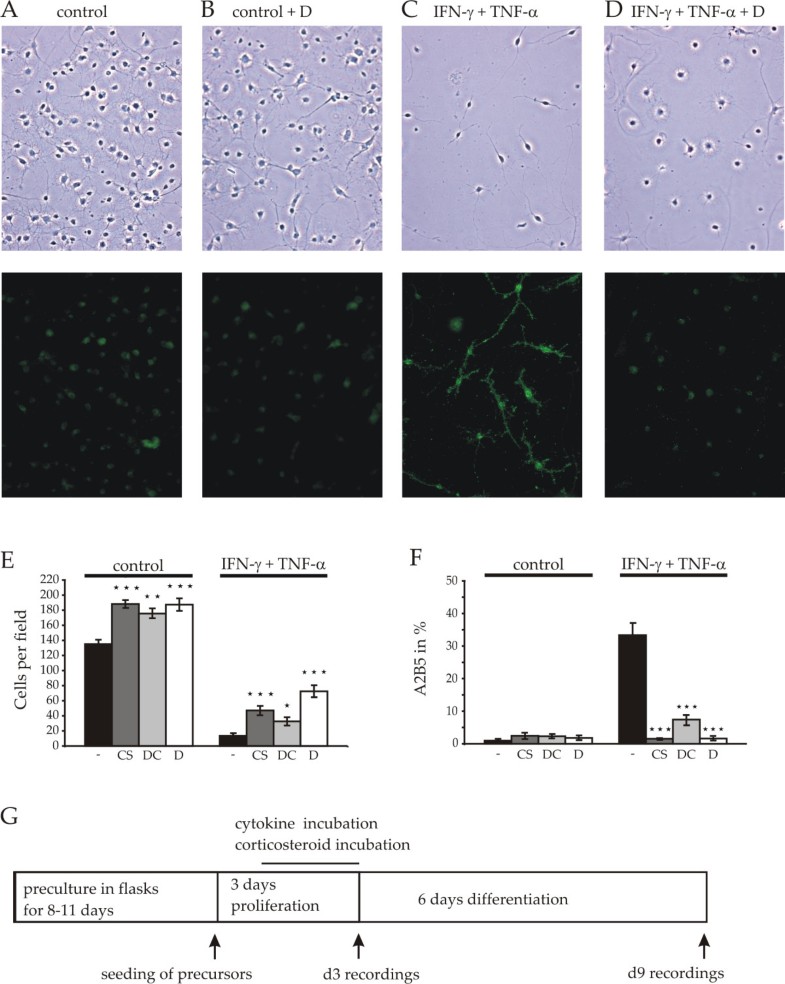 Conclusion
Our results indicate, that cytokine-induced damage to oligodendrocyte precursor cells can be prevented at the level of morphological maturation and the expression of mature myelin proteins by corticosteroids. Furthermore, even the physiological function of the damaged cells, as reflected by the restoration of the differentiated pattern of the voltage-activated ion currents was rescued. This indicates that cytokine-damaged immature oligodendrocytes could eventually be functionally restituted by an adequate pharmacological treatment. Since clinical studies so far provided less clear results using corticosteroids more detailed investigations concerning alternative approaches to interfere with the molecular pathways activated by cytokines in oligodendrocyte precursor cells have to be worked out in order to find clinically more successful agents to protect immature oligodendrocyte precursors.
Declarations
Acknowledgements
This work was supported by Deutsche Forschungsgemeinschaft (Be 1688/5-1 and He 1398/21-2). We are indepted to Constanze Bein in the early stages and to Heidrun Breuker in the late stages of this work for help with the cell culture.
Authors' Affiliations
(1)
Department of Molecular Neurobiochemistry, Ruhr University, Bochum, Germany
(2)
Marienhaus Klinikum Neuwied, Frauenklinik, Neuwied, Germany
(3)
Division of Molecular Gynaeco-Oncology, Department of Gynaecology and Obstetrics, Clinical Center University of Cologne, Germany
(4)
Center for Internal Medicine, Institute for Pathophysiology, Universitätsklinikum Essen, Essen, Germany
(5)
Electrophysiology and Biophysics Program, Victor Chang Cardiac Research Institute, Darlinghurst, Australia
Copyright
© Mann et al; licensee BioMed Central Ltd. 2008
This article is published under license to BioMed Central Ltd. This is an Open Access article distributed under the terms of the Creative Commons Attribution License (http://creativecommons.org/licenses/by/2.0), which permits unrestricted use, distribution, and reproduction in any medium, provided the original work is properly cited.