Neuroinflammation and MMPs: potential therapeutic targets in neonatal hypoxic-ischemic injury
Journal of Neuroinflammation
2009
6:13
Received: 04 March 2009
Accepted: 15 April 2009
Published: 15 April 2009
Abstract
Exposure to hypoxic-ischemic insults during the neonatal or perinatal developmental periods produces various forms of pathology. Injuries that occur in response to these events often manifest as severe cognitive and/or motor disturbances over time. Due to difficulties regarding the early diagnosis and treatment of hypoxic-ischemic injury, there is a growing need for effective therapies that can be delivered at delayed time points. Much of the research into mechanisms of neural injury has focused on molecular targets associated with excitotoxicity and free oxygen radicals. Despite repeated success in animal models, these compounds have failed to show efficacy in clinical trials. Increasing evidence indicates that hypoxic-ischemic injury in the neonate is progressive, and the resulting neuropathies are linked to the activation of neuroinflammatory processes that occur in response to the initial wave of cell death. Understanding this latter response, therefore, will be critical in the development of novel therapies to block the progression of the injury. In this review, we summarize emerging concepts from rodent models concerning the regulation of various cytokines, chemokines, and matrix metalloproteinases in response to ischemia, and the various ways in which the delayed neuroinflammatory response may contribute to the progressive nature of neonatal hypoxic-ischemic injury in rat. Finally, we discuss data that supports the potential to target these neuroinflammatory signals at clinically relevant time points.
Keywords
Middle Cerebral Artery OcclusionGlial ScarNeuroinflammatory ResponseChronic Cerebral HypoperfusionResident Microglia
Conclusion
Neonatal hypoxic-ischemic injury is progressive and leads to debilitating neuropathies later in development. Difficulties in diagnosis and treatment underscore the need for novel therapeutics that can be administered at delayed time points. The initial injury results from energy failure and cytotoxicity, yet the delayed neuroinflammatory response is a more viable option for treatment in the clinical setting. As accumulating evidence from rodent models suggests that gelatin-degrading MMPs mediate the neuroinflammatory response to H-I in the developing brain, detailed investigations into the concerted actions of proinflammatory cytokines, chemokines, and MMPs (Figure
1
) may prove beneficial in developing novel therapies to treat H-I injury. Care must be taken to ensure that novel therapeutics do not interfere with critical developmental processes and/or limit the potential for neural plasticity.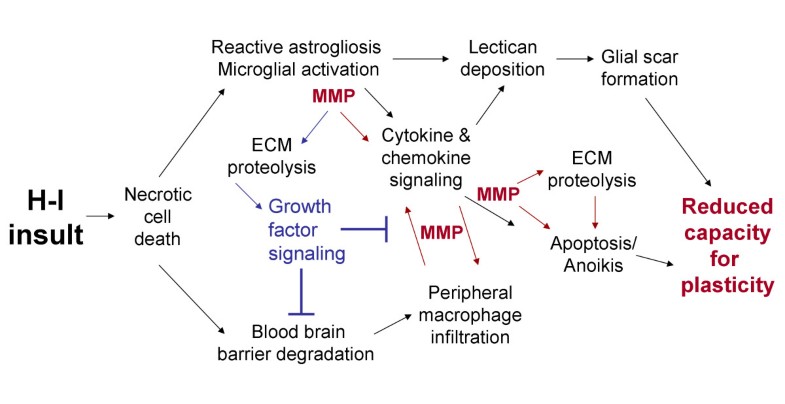 Authors' Affiliations
(1)
Department of Molecular Pharmacology and Physiology, School of Basic Biomedical Sciences, College of Medicine, University of South Florida, Tampa, USA
Copyright
© Leonardo and Pennypacker; licensee BioMed Central Ltd. 2009
This article is published under license to BioMed Central Ltd. This is an Open Access article distributed under the terms of the Creative Commons Attribution License (http://creativecommons.org/licenses/by/2.0), which permits unrestricted use, distribution, and reproduction in any medium, provided the original work is properly cited.