Cross-talk between the inflammatory response, sympathetic activation and pulmonary infection in the ischemic stroke
Journal of Neuroinflammation
2014
11:213
Received: 2 September 2014
Accepted: 2 December 2014
Published: 24 December 2014
Abstract
The immune system response and inflammation play a key role in brain injury during and after a stroke. The acute immune response is responsible for secondary brain tissue damage immediately after the stroke, followed by immunosuppression due to sympathetic nervous system activation. The latter increases risk of infection complications, such as pneumonia. The pneumonia-related inflammatory state can release a bystander autoimmune response against central nervous system antigens, thereby initiating a vicious circle. The aim of this review is to summarize the relationship between ischemic stroke, sympathetic nervous system activation and pulmonary infection.
Keywords
StrokeBrain injuryImmune responseSympathetic nervous systemLung injuryPneumonia
Introduction
It is estimated that pulmonary and urinary tract infections occur in up to one third of patients suffering from ischemic stroke within the first days after the vascular event [1],[2]; however, frequency of these infections varies between studies [3]. The largest trial undertaken to investigate the effect of pneumonia on mortality in hospitalized patients with acute stroke reported a 27% 30-day mortality rate in 635 patients due to pneumonia compared to 4% death rate among patients free from severe respiratory infections (P < 0.001) [4]. The most important predictors of post-stroke infection include older age, stroke severity (that is National Institutes of Health Stroke Scale of more than 16 in 0 to 42 scale, Barthel Index of less than 5 in 0 to 20 scale, Glasgow Coma Scale score of less than 9), larger area of the infarct, and dysphagia [4],[5].
Dysphagia is a well-recognized risk factor for post-stroke pneumonia. Traditionally, it has been explained by abnormal dopamine transmission and/or a decrease of substance P in the gastrointestinal tract resulting in the impairment of the swallowing reflex [6]. Dysphagia is a frequent indication for tube feeding as a prophylactic procedure against post-stroke pneumonia, however, with very limited effects [7]. As none of the modalities used to treat dysphagia provide efficient protection against post-stroke pneumonia, it is warranted to discern alternative etiologies for the respiratory insult, including a stroke-induced systemic immune response [3]. This assumption corresponds with the observation that up to half of the patients presenting with pneumonia do not aspirate [8]. Furthermore, Prass et al. [9] demonstrated that experimental stroke can promote bacterial aspiration from harmless intranasal colonization, leading to pneumonia. Prevention of infections by β-adrenergic receptors (β-ARs) blockade suggests that immunodepression due to sympathetic nervous system (SNS) hyperactivity is essential for the development of aspiration-induced pneumonia [10]. The insular cortex strokes associated with excessive sympathetic stimulation increase the risk of post-stroke pneumonia in humans [11].
Acute immune activation after the stroke is responsible for secondary brain injury [12],[13]. It is followed by immunosuppression, consequently increasing the risk of infections such as pneumonia. Recently, multiple experimental and clinical studies were performed to explain the relationship between infection after the stroke and immunosuppression induced by the SNS [9],[10],[14].
Ischemic stroke gives rise to an intense activation of the SNS and the release of catecholamines [9],[10]. Primary (bone marrow and thymus) and secondary (spleen and lymph nodes) lymphoid organs are abundantly innervated by autonomic, mostly sympathetic efferent fibers. The SNS primary neurotransmitter - norepinephrine is released into the lymphoid tissue and modulates the function of immune cells [15]. The stroke-induced SNS activation is responsible for lymphopenia, impaired function of monocytes, shift from Th1 to Th2 cytokine production and increased lymphocyte apoptosis, observed in the affected patients [9]-[11]. Pharmacological inhibition of the peripheral SNS activation with a beta-blocker was shown to prevent immunosuppression in experimental stroke [10]. A retrospective analysis showed that the use of beta-blockers is associated with reduced risk of early death in patients with ischemic stroke [16]. The aim of this review is to discuss the relationship between ischemic stroke, SNS activation and pulmonary infection.
Conclusions
Current evidence suggests that immune-sympathetic interplay is a key point in understanding the dynamic environment of ischemic stroke. The lungs are both strongly affected and may actively participate in this interplay. We propose a model that links the 'double hit' and 'Th1 response to pneumonia' theories (Figure
2
). The initial sympathetic storm directly affects the lungs (first hit), and indirectly makes them more susceptible to infection due to immunosuppression (second hit). Immunosuppresion shifts the immune response from Th1 to Th2 to protect the brain from the adaptive immune response, but pneumonia may overcome this shift, and restart Th1 bystander autoimmune response directed against CNS antigens.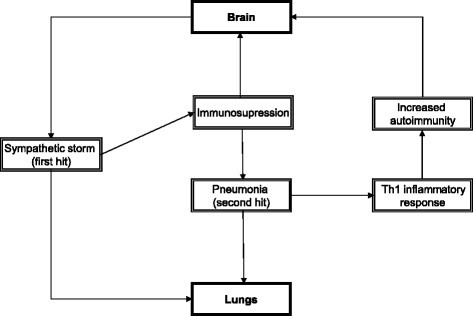 In this review, we summarized the current knowledge related to the immune-sympathetic interactions with particular emphasis on the brain-lung cross-talk during this interplay. Better understanding of the pathomechanisms underlying stroke is even more urgent and important when we consider that most of the proposed experimental therapies failed to provide benefits in clinical trials in humans. In future research, data acquisition taking into account the complexity of the nervous and immune system interactions as a multisystem network most likely represents the most promising approach in describing the interrelations and pathways involved in stroke.
Abbreviations
ALI:

Acute lung injury
bFGF:

basic fibroblast growth factor
β-ARs:

β-adrenergic receptors
CNS:

central nervous system
CCR:

chemokine receptors
EGF:

epidermal growth factor
GFAP:

glial fibrillary acidic protein
HPA:

hypothalamic-pituitary-adrenal
iNOS:

inducible nitric oxide synthase
IP-10:

IFN-γ-induced protein 10
LPS:

lipopolysaccharide
MBP:

myelin basic protein
MCP-1:

monocyte chemotactic protein
MIP-2:

macrophage inflammatory protein 2
NPE:

neurogenic pulmonary edema
NK:

natural killer
ROS:

reactive oxygen species
SNS:

sympathetic nervous system
TC T:

cytotoxic
TH T:

helper
Treg:

regulatory T
Authors' Affiliations
(1)
Institute of Human Physiology, Medical University of Gdansk, Gdansk, Poland
(2)
Department of Immunopathology of Infectious and Parasitic Diseases, Medical University of Warsaw, Warsaw, Poland
(3)
Department of Laboratory Diagnostics and Clinical Immunology of Developmental Age, Medical University of Warsaw, Warsaw, Poland
Copyright
© Winklewski et al.; licensee BioMed Central. 2014
This article is published under license to BioMed Central Ltd. This is an Open Access article distributed under the terms of the Creative Commons Attribution License (http://creativecommons.org/licenses/by/4.0), which permits unrestricted use, distribution, and reproduction in any medium, provided the original work is properly credited. The Creative Commons Public Domain Dedication waiver (http://creativecommons.org/publicdomain/zero/1.0/) applies to the data made available in this article, unless otherwise stated.