MIF: Mood Improving/Inhibiting Factor?
Journal of Neuroinflammation
2014
11:11
Received: 5 December 2013
Accepted: 7 January 2014
Published: 21 January 2014
Abstract
Although major depressive disorder imposes a serious public health burden and affects nearly one in six individuals in developed countries over their lifetimes, there is still no consensus on its pathophysiology. Inflammation and cytokines have emerged as a promising new avenue in depression research, and, in particular, macrophage migration inhibitory factor (MIF) has been shown to be significant in depression physiology. In this review we summarize current research on MIF and depression. We highlight the arguments for MIF as a pro- and antidepressant species and discuss the potential implications for therapeutics.
Keywords
MIFDepressionNeuroinflammationNeurogenesisAntidepressantBiomarker
Introduction
Major depressive disorder (MDD) is a clinical syndrome defined by chronic disturbances in emotion and ideation that are accompanied by somatic or neurovegetative symptoms [1]. The disease has a worldwide lifetime prevalence of 12%, with the prevalence in developed countries (USA and Europe) as high as 18% [2]; this figure is increasing over time [3]. Additionally, depressive mood is often comorbid with other psychiatric conditions such as anxiety and eating disorders, as well as with chronic medical conditions such as cancer, cardiovascular disease, neurological disorders, and chronic inflammatory diseases [4]; this is often called 'secondary depression' [5]. Comorbid depression significantly worsens outcomes in coronary heart disease, diabetes mellitus, and stroke [6, 7]. Depression can also cause cognitive symptoms [8] that can produce severe psychosocial deficits [9]. Despite these considerations, treatment for depression has not changed significantly in recent years. Current treatments do not adequately address cognitive deficits in depression [10], and there remain few solutions for treatment-resistant depression, which affects almost half of the patient population [11].
One of the reasons for the slow progress in this area is the lack of a unified theory of the pathobiology of depression. Several hypotheses are currently supported by research. One of the oldest is the monoamine theory, which asserts that depression is caused by a depletion of monoamines (such as serotonin or norepinephrine) in the brain [12]. Selective serotonin reuptake inhibitors (SSRIs) operate on this premise, and they are currently among the first-line treatments for major depression [13]. However, this theory fails to explain the delay in remission during treatment with SSRIs, or why depletion of monoamines does not reproduce depressive symptoms in healthy controls. As a result, a neurotrophic theory of depression has emerged: atrophic changes are found in the postmortem brains of MDD patients, and increases in neurogenesis or neuroplastic factors have antidepressant effects [12]. Any unified theory of depression would doubtless need to incorporate aspects of both of these hypotheses.
A large body of evidence has also pointed to an inflammatory etiology in depression [14]. Depressed mood develops in nearly a third of patients treated with recombinant interferon alpha, and is more prevalent in patients with chronic inflammatory diseases [15, 16]. Systemic inflammation produces sickness behavior that resembles depression in both patients and rodent models [17]. One of the challenges of this hypothesis is explaining how peripheral cytokines can cross the blood brain barrier and affect the central nervous system to induce depression. One proposed explanation centers on the cytokine-activated enzyme indoleamine 2,3-dioxygenase, which has been shown to induce depression-like behavior. It degrades neural tryptophan into 3-hydroxykyurenin and quinolinic acid; in addition to being neurotoxic, these metabolites also drain local stores of tryptophan, which is a prerequisite in the synthesis of serotonin [18].
Discussion
Despite significant evidence for MIF involvement in the pathobiology of depression, some uncertainty remains about its exact role. MIF is an established species in the brain with suggested protective roles against neurodegenerative disease [
38
]. Multiple groups have identified a role for MIF in mediating antidepressant activities, and have shown that loss of MIF results in an antidepressant phenotype; there is even evidence that MIF has direct antidepressant effects. These studies have linked MIF to monoamine production and neurogenesis, both implicated in the pathobiology of depression [
36
,
69
]. Conversely, increased serum MIF has been identified in both patients with major depression and healthy subjects with depressive symptoms [
81
,
82
,
85
,
86
], although these studies have shown mixed results [
83
]. At least one study has associated these changes with the HPA axis, which has also been implicated in depression [
59
]. See Figure
1
for a summary of putative roles for MIF in depression.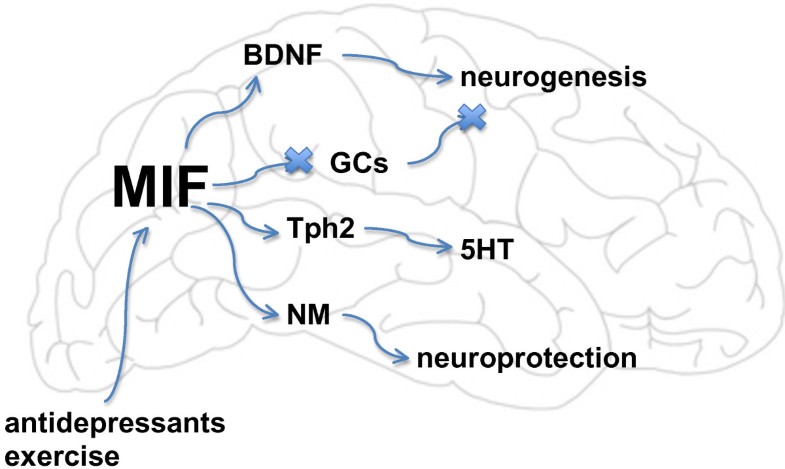 It seems counterintuitive to assert that MIF is both an antidepressant and a biomarker of depression. However, it is important to realize that the Conboy and Moon studies were working with MIF native to the brain, while the biomarker studies were analyzing MIF levels in peripheral blood. MIF does not cross the blood brain barrier [87, 88], and differential expression in the two areas may explain the differing observations. MIF levels in plasma may be incidental to the mechanisms of depression or may arise as a consequence of a different but related process. It is also possible that the two results are not mutually exclusive, and increased MIF in depressed individuals is a physiological adaptation to the pathobiological changes of depression. It is notable in this regard that increased MIF in depressed patients has been found to correlate with treatment response [86].
MIF underlies the pathophysiology of several disease conditions, and MIF inhibition is well characterized and widely used in research [64]. Anti-MIF antibodies are currently being investigated in Phase I clinical trials [89]. It seems inevitable that some form of MIF inhibitors will soon become available at the clinical level. When this occurs, MIF's role in depression - whatever it may be - will be highly relevant. If MIF is found to promote depression, then MIF inhibitors could be investigated as antidepressants; ISO-1, the most tested MIF inhibitor, has already been shown to cross the blood brain barrier [36]. If MIF acts as an antidepressant, then anti-MIF therapeutics can be engineered not to cross the blood brain barrier, bypassing depression as a possible off-target effect.
Conclusion
There are clear gaps in the research concerning MIF and depression. Future studies should work to elucidate the relationship between central and peripheral MIF in depression, if any exists. Further work should also be done to clarify MIF's role as a pro- or antidepressant and its place in the pathobiology of depression. It may be useful to further analyze relationships with factors in and out of the monoamine and neurogenic pathways that have been shown to impact depression. Imaging studies have emerged as an important modality in neuropsychiatric disorders, including depression [90, 91]; it may prove interesting to test how alterations in MIF expression affect the presentation of the disease on imaging studies. One advantage in these projects will be the fact that MIF is a well-studied molecule, with both established inhibitors and KO strains in rodent models.
Although there is much to be done, it seems beyond doubt that MIF has great potential in studies of the mechanisms of major depression. In addition to interacting with known elements involved in the physiological changes of depression, it is also active in the brain and can be shown to have independent effects on the depression phenotype. In addition to expanding our knowledge about this still-enigmatic disease, such studies can also inform current drug development efforts with anti-MIF therapy, as well as possibly provide the stagnant field of antidepressant treatment with a valuable new target in modifying the course of this disease.
Abbreviations
ACTH:

adrenocorticotropic hormone
AP1:

activator protein 1
BDI:

Beck Depression Inventory
BDNF:

brain-derived neurotrophic factor
CES-D:

Center for Epidemiologic Studies Depression Scale
CNS:

central nervous system
CRH:

corticotrophin releasing hormone
ECT:

electroconvulsive therapy
EPO:

erythropoietin
ERK:

extracellular signal-related kinase
FST:

Porsolt forced swim test
GENDEP:

Genome-based Therapeutic Drugs for Depression project
HPA:

hypothalamic-pituitary-adrenal
HRSD:

Hamilton Depression Scale 17-item version
icv:

intracerebroventricular
IkB:

inhibitory binding factor of NFkB
IFN:

interferon
IL:

interleukin
Jab1:

JUN-activation domain binding protein 1
JNK:

JUN N-terminal kinase
KO:

knockout
MADRS:

Montgomery-Asberg Depression Rating Scale
MAPK:

mitogen-activated protein kinase
MDD:

major depressive disorder
MIF:

macrophage migration inhibitory factor
MO:

Morpholino-mediated knockdown
NF:

nuclear factor
PA:

physical activity
PGE2:

prostaglandin E2
PLA2:

phospholipase A2
SDS:

Zung self-rating depression scale
SSRI:

selective serotonin reuptake inhibitor
Tph2:

tryptophan hydroxylase-2
UCLA-R:

Revised UCLA Loneliness Scale
WISH:

whole-mount in situ hybridization.
Declarations
Acknowledgements
We thank Roman Sankowski, Sonya VanPatten, and Christine Metz for their critical reading and assistance with the manuscript.
Authors' Affiliations
(1)
Hofstra North Shore-LIJ School of Medicine, Hempstead, USA
(2)
Center for Molecular Innovation, The Feinstein Institute for Medical Research, Manhasset, USA
Copyright
© Bloom and Al-Abed; licensee BioMed Central Ltd. 2014
This article is published under license to BioMed Central Ltd. This is an Open Access article distributed under the terms of the Creative Commons Attribution License (http://creativecommons.org/licenses/by/2.0), which permits unrestricted use, distribution, and reproduction in any medium, provided the original work is properly cited. The Creative Commons Public Domain Dedication waiver (http://creativecommons.org/publicdomain/zero/1.0/) applies to the data made available in this article, unless otherwise stated.