Differential regulation of Aβ42-induced neuronal C1q synthesis and microglial activation
Journal of Neuroinflammation
2005
2:1
Received: 18 November 2004
Accepted: 10 January 2005
Published: 10 January 2005
Abstract
Expression of C1q, an early component of the classical complement pathway, has been shown to be induced in neurons in hippocampal slices, following accumulation of exogenous Aβ42. Microglial activation was also detected by surface marker expression and cytokine production. To determine whether C1q induction was correlated with intraneuronal Aβ and/or microglial activation, D-(-)-2-amino-5-phosphonovaleric acid (APV, an NMDA receptor antagonist) and glycine-arginine-glycine-aspartic acid-serine-proline peptide (RGD, an integrin receptor antagonist), which blocks and enhances Aβ42 uptake, respectively, were assessed for their effect on neuronal C1q synthesis and microglial activation. APV inhibited, and RGD enhanced, microglial activation and neuronal C1q expression. However, addition of Aβ10–20 to slice cultures significantly reduced Aβ42 uptake and microglial activation, but did not alter the Aβ42-induced neuronal C1q expression. Furthermore, Aβ10–20 alone triggered C1q production in neurons, demonstrating that neither neuronal Aβ42 accumulation, nor microglial activation is required for neuronal C1q upregulation. These data are compatible with the hypothesis that multiple receptors are involved in Aβ injury and signaling in neurons. Some lead to neuronal C1q induction, whereas other(s) lead to intraneuronal accumulation of Aβ and/or stimulation of microglia.
Keywords
Microglial ActivationSlice CultureCentral Nervous System InflammationHippocampal Slice CultureIntraneuronal Accumulation
Introduction
Alzheimer's disease (AD) is the most common form of dementia in the elderly. Its main pathological features include extracellular amyloid beta (Aβ) deposition in plaques, neurofibrillary tangles (composed of hyperphosphorylated tau protein) in neurons, progressive loss of synapses and cortical/hippocampal neurons, and upregulation of inflammatory components including activated microglia and astrocytes and complement activation [1]. Although the contribution of abnormal phosphorylation and assembly of tau to AD dementia remains a focus of investigation, therapies that interfere with Aβ production, enhance its degradation, or cause its clearance from the central nervous system (CNS) have been the center of many studies in search of a cure for this disease.
Microglial cells, when activated, are believed to be responsible for much of the Aβ clearance through receptor-mediated phagocytosis [2, 3]. Upon activation, microglia acquire features more characteristic of macrophages, including high phagocytic activity, increased expression of leukocyte common antigen (CD45), major histocompatibility complex (MHC) class II and costimulatory molecules B7, and secretion of proinflammatory substances [4]. In addition, phagocytic microglia also participate in the removal of degenerating neurons and synapses as well as Aβ deposits ([5], and reviewed in [6]). Thus, while some microglial functions are beneficial, the destructive effects of the production of toxins (such as nitric oxide, superoxide) and proinflammatory cytokines by activated microglia apparently overcome the protective functions in the chronic stage of neuroinflammation [7, 8]. In vitro studies have shown both protection and toxicity contributed by microglia in response to Aβ depending on the state of activation of microglia [9, 10]. Correlative studies on AD patients and animal models of AD strongly suggest that accumulation of reactive microglia at sites of Aβ deposition contributes significantly to neuronal degeneration [3, 11], although decreased microglia have been reported to be associated with both lowered and enhanced neurodegeneration in transgenic animals [12, 13]. Aβ itself is believed to initiate the accumulation and activation of microglia. However, recent reports provide evidence for neuron-microglial interactions in regulating CNS inflammation [14]. Nevertheless, the molecular mechanisms responsible for activation and regulation of microglia remain to be defined.
Complement proteins have been shown to be associated with Aβ plaques in AD brains, specifically those plaques containing the fibrillar form of the Aβ peptide [11]. Complement proteins are elevated in neurodegenerative diseases like AD, Parkinson's disease, and Huntington's disease as well as more restricted degenerative diseases such macular degeneration and prion disease [11, 15–18]. Microglia, astrocytes, and neurons in the CNS can produce most of the complement proteins upon stimulation. C1q, a subcomponent of C1, can directly bind to fibrillar Aβ and activate complement pathways [19], contributing to CNS inflammation [13]. In addition, C1q has been reported to be synthesized by neurons in several neurodegenerative diseases and animal injury models, generally as an early response to injury [20–23], possibly prior to the synthesis of other complement components.
Interestingly, C1q and, upon complement activation, C3 also can bind to apoptotic cells and blebs and promote ingestion of those dying cells [24–26]. Elevated levels of apoptotic markers are present in AD brain tissue suggesting that many neurons undergo apoptosis in AD [27–29]. Excess glutamate, an excitatory neurotransmitter released from injured neurons and synapses, is one of the major factors that perturb calcium homeostasis and induce apoptosis in neurons [30]. Thus, it is reasonable to hypothesize that neuronal expression of C1q, as an early injury response, may serve a potentially beneficial role of facilitating the removal of apoptotic neurons or neuronal blebs [31] in diseases thereby preventing excess glutamate release, excitotoxicity, and the subsequent additional apoptosis.
We have previously reported that in rat hippocampal slice cultures treated with exogenous Aβ42, C1q expression was detected in pyramidal neurons following the internalization of Aβ peptide. This upregulation of neuronal C1q could be a response to injury from Aβ that would facilitate removal of dying cells. Concurrently, microglial activation was prominent upon Aβ treatment. In the present study, the relationship of Aβ-induced neuronal C1q production to microglia activation and Aβ uptake in slice cultures was investigated.
Discussion
Previously, it has been shown that Aβ is taken up by pyramidal neurons in hippocampal slice culture and that the synthesis of complement protein C1q is induced in neurons [34]. Here we demonstrate that blocking of Aβ42 accumulation in neurons by NMDA receptor antagonist APV and increasing Aβ42 ingestion by integrin antagonist RGD is accompanied by inhibition and elevation in neuronal C1q expression, respectively. However, Aβ10–20, which markedly inhibits Aβ42 accumulation in pyramidal neurons, does not have any inhibitory effect on neuronal C1q expression. Thus, intraneuronal accumulation of Aβ is not necessary for Aβ-mediated induction of neuronal C1q synthesis.
Since Aβ10–20 alone can induce a level of C1q expression in neurons comparable to Aβ42, it is hypothesized that amino acids 10–20 in Aβ peptide contain the sequence that is recognized by at least one Aβ receptor. It was reported by Giulian et al. that the HHQK domain (residues 13–16) in Aβ is critical for Aβ-microglia interaction and activation of microglia, as they demonstrated that small peptides containing HHQK suppress microglial activation and Aβ-induced microglial mediated neurotoxicity [38]. We have previously reported that rat Aβ42, which differs in 3 amino acids from human Aβ42, including 2 in the 10–20 region and 1 in the HHQK domain, was internalized and accumulated in neurons but failed to induce neuronal C1q expression [34]. This is consistent with the hypothesis that a specific Aβ interaction (either neuronal or microglial), presumably via the HHQK region of the Aβ peptide, but not intracellular Aβ accumulation, can lead to neuronal C1q induction in hippocampal neurons.
Neurons are the major type of cells that accumulate exogenous Aβ in slice cultures. Microglial activation, as assessed by CD45, OX42, and ED1, was increased with enhanced neuronal Aβ42 uptake and inhibited when Aβ42 uptake was blocked by APV or Aβ10–20 in this slice culture system. These data would be consistent with a model in which neurons, upon internalization of Aβ peptide, secrete molecules to modulate microglial activation [
14
,
41
,
42
] (Figure
7
, large arrows). Synthesis and release of those molecules may require the intracellular accumulation of Aβ since blocking intraneuronal Aβ accumulation always blocked microglial activation. The finding that treatment with Aβ10–20 alone did not result in intraneuronal Aβ immunoreactivity or microglial activation, while rat Aβ42, which did accumulate within neurons, induced activation of microglial cells, is consistent with this hypothesis. It should be noted that an absence of Aβ immunoreactivity in Aβ10–20 treated slices does not exclude the possibility that Aβ10–20 was ingested but soon degraded by cells, and thus accumulation of Aβ rather than ingestion alone may be necessary to induce secretion of microglia activating molecules from neurons. Giulian et al. reported that the HHQK region alone was not able to activate microglia [
38
]. Thus, Aβ10–20 might block microglial activation by competing with Aβ42 for direct microglial binding, as well as by blocking uptake and accumulation of Aβ in neurons.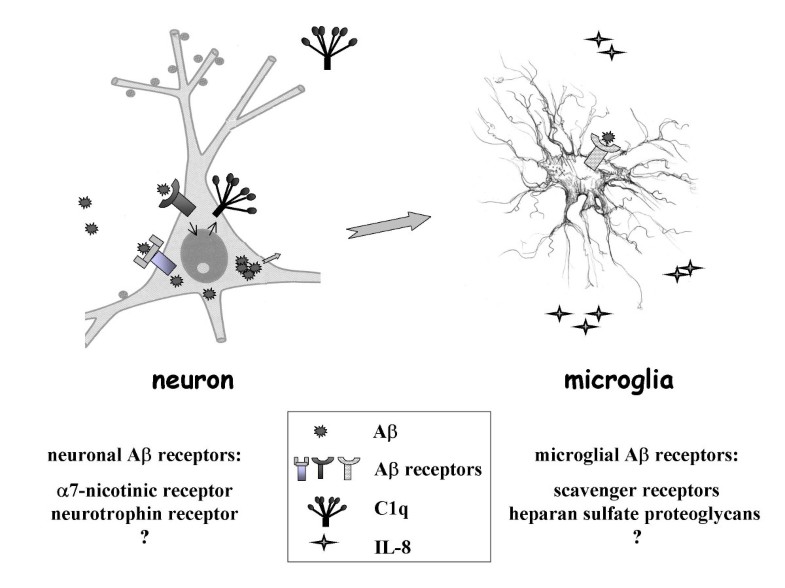 Activated glial cells, especially microglia, are major players in the neuroinflammation seen in of Alzheimer's disease [43]. Microglial cells can be activated by Aβ and produce proinflammatory cytokines, nitric oxide, superoxide, and other potentially neurotoxic substances in vitro, although the state of differentiation/ activation of microglia and the presence of other modulating molecules is known to influence this stimulation [7, 9, 43]. "Activated" microglia also become more phagocytic and can partially ingest and degrade amyloid deposits in brain. This leads many to hypothesize that there are multiple subsets of "activated" microglia, each primed to function in a specific but distinct way [5, 43].
In hippocampal slice cultures, we and others have shown that Aβ42 triggered microglial activation as assessed by immunohistochemical detection of CR3 (OX42), and cathepsin D [34, 37]. Several chemokines, including macrophage inflammatory protein-1 (MIP-1α, MIP-1β), monocyte chemotactic protein (MCP-1), and interleukin 8 (IL-8), have been reported to increase in Alzheimer's disease patients or cell cultures treated with Aβ [44, 45]. CD40, a co-stimulatory molecule, is also upregulated in Aβ-treated microglia [10]. In this study, similar to reports of cultured microglia, immunoreactivity of CD45 was found increased on microglia in Aβ42 treated slice cultures, and CD40 and IL-8 messenger RNAs were elevated after Aβ42 exposure. As expected, CD40 and IL-8 mRNA induction was blocked whenever immunohistochemistry analysis showed the inhibition of microglial activation. [We did not observe change in MIP-1α, 1β mRNAs in slice culture with Aβ42 treatment, and MCP-1 was too low to be detected with or without Aβ stimulation although it was detectable in LPS treated slices (data not shown).]
The data presented thus far suggest the hypothesis that neurons, upon uptake and accumulation of Aβ, release certain substances that activate microglia. One possible candidate of those neuron-produced substances is MCSF, which has been reported to be induced in neuronal cultures upon Aβ stimulation [41, 46], and is known to be able to trigger microglial activation [47]. Indeed, MCSF mRNA was found to increase after 3 days of Aβ treatment (Figure 6a and 6b). The diminished MCSF signal with the addition of APV and coordinate lack of microglial activation is consistent with a proposed role of activating microglia by MCSF produced by stimulated neurons. However, in the presence of Aβ10–20, MCSF induction was unaltered, though microglial activation was inhibited. Thus, MCSF alone does not lead to the upregulation of the above-mentioned microglial activation markers.
In this organotypic slice culture, no significant neuronal damage was observed in 3 day treatment with Aβ at concentrations that have been reported to cause neurotoxicity in cell cultures. One possible explanation is that the peptide has to penetrate the astrocyte layer surrounding the tissue to reach the multiple layers of neurons. Thus, the effective concentration of Aβ on neurons is certainly much lower than the added concentration. Aβ failing to induce neurotoxicity in slices to the same extent as in cell cultures may also indicate the loss of certain protective mechanisms in isolated cells. A distinct advantage of the slice culture model is that the tissue contains all of the cell types present in brain, the cells are all at the same developmental stage, and cells may communicate in similar fashion as in vivo.
Our data demonstrating distinct pathways for the induction of neuronal C1q and the activation of microglial by amyloid peptides suggest the involvement of multiple Aβ receptors on multiple cell types in response to Aβ (Figure 7, model) and possibly in Alzheimer's disease progression. This multiple-receptor mechanism is supported by reports suggesting many proteins/complexes can mediate the Aβ interaction with cells [48]. These include, but not limited to, the alpha7nicotinic acetylcholine receptor (alpha7nAChR), the P75 neurotrophin receptor (P75NTR) on neurons, the scavenger receptors and heparan sulfate proteoglycans on microglia, as well as receptor for advanced glycosylation end-products (RAGE) and integrins on both neurons and microglia (Figure 7). Several signaling pathways have been implicated in specific Aβ-receptor interactions [49–51]. However, it is not known which receptors are required for induction of C1q in neurons. In addition, as of yet the function of neuronal C1q has not been determined. Previous reports from our lab have shown that C1q is associated with hippocampal neurons in AD cases but not normal brain [52], and the fact that it is synthesized by the neurons has been documented by others [23, 53]. In addition, C1q was prominently expressed in a preclinical case of AD (significant diffuse amyloid deposits, with no plaque associated C1q, and no obvious cognitive disorder) and is expressed in other situations of "stress" or injury in the brain [54–58]. Indeed, overexpression of human cyclooxygenase-2 in mice leads to C1q synthesis in neurons and inhibition of COX-2 activity abrogates C1q induction. These data suggest that in addition to the facilitation of phagocytosis by microglia [59, 60] (particularly of dead cells or neuronal blebs), the induction of C1q may be an early response of neurons to injury or regulation of an inflammatory response, consistent with a role in the progression of neurodegeneration in AD. Whether and how the neuronal C1q production affects the survival of neurons is still under investigation. Identifying the receptors responsible for neuronal C1q induction may be informative in understanding the role of C1q in neurons in injury and disease.
Conclusions
In summary, induction of C1q expression in hippocampal neurons by exogenous Aβ42 is dependent upon specific cellular interactions with Aβ peptide that require HHQK region-containing sequence, but does not require intraneuronal accumulation of Aβ or microglial activation. Thus, induction of neuronal C1q synthesis may be an early response to injury to facilitate clearance of damaged cells, while modulating inflammation and perhaps facilitating repair. Microglial activation in slice culture involves the induction of CD45, CD40, CR3, and IL-8, which correlates with intraneuronal accumulation of Aβ, indicating contribution of factors released by neurons upon Aβ exposure. MCSF may be one of those stimulatory factors, though by itself MCSF cannot fully activate microglia.
Removal of Aβ to prevent deposition and of cellular debris to avoid excitotoxicity would be a beneficial role of microglial activation in AD. However, activated microglia also produce substances that are neurotoxic. Therefore, the goal of modulating the inflammatory response in neurodegenerative diseases like AD is to enhance the phagocytic function of glial cells and inhibit the production of proinflammatory molecules. Being able to distinguish in the slice system C1q expression (which has been shown to facilitate phagocytosis of apoptotic cells in other systems [24]) from microglial activation suggests a plausible approach to reach that goal in vivo.
List of abbreviations
Aβ:

amyloid beta
AD:

Alzheimer's disease
APV:

D-(-)-2-amino-5-phosphonovaleric acid
BSA:

bovine serum albumin
GRGDSP (RGD):

glycine-arginine-glycine-aspartic acid-serine-proline
HBSS:

Hanks' balanced salt solution
HEPES:

N-2-hydroxyethylpiperazine-N'-2-ethanesulfonic acid
MCSF:

macrophage colony stimulating factor
NMDA:

N-methyl-D-aspartic acid
PMSF:

phenylmethylsulfonylfluoride
TAE:

triethanolamine.
Declarations
Acknowledgments
This work is supported by NIH NS 35144 and P50 AG16573. The authors thank Dr. Saskia Milton and Dr. Charles Glabe for providing the synthetic human Aβ peptide, and Dr. Maria Fonseca, Dr. Ming Li, and Karntipa Pisalyaput for their review of this manuscript.
Authors' Affiliations
(1)
Department of Molecular Biology and Biochemistry, Institute of Brain Aging and Dementia, University of California, Irvine, Irvine, USA
Copyright
© Fan and Tenner; licensee BioMed Central Ltd. 2005
This article is published under license to BioMed Central Ltd. This is an Open Access article distributed under the terms of the Creative Commons Attribution License (http://creativecommons.org/licenses/by/2.0), which permits unrestricted use, distribution, and reproduction in any medium, provided the original work is properly cited.