New perspectives on central and peripheral immune responses to acute traumatic brain injury
Journal of Neuroinflammation
2012
9:236
Received: 28 June 2012
Accepted: 4 September 2012
Published: 12 October 2012
Abstract
Traumatic injury to the brain (TBI) results in a complex set of responses involving various symptoms and long-term consequences. TBI of any form can cause cognitive, behavioral and immunologic changes in later life, which underscores the problem of underdiagnosis of mild TBI that can cause long-term neurological deficits. TBI disrupts the blood–brain barrier (BBB) leading to infiltration of immune cells into the brain and subsequent inflammation and neurodegeneration. TBI-induced peripheral immune responses can also result in multiorgan damage. Despite worldwide research efforts, the methods of diagnosis, monitoring and treatment for TBI are still relatively ineffective. In this review, we delve into the mechanism of how TBI-induced central and peripheral immune responses affect the disease outcome and discuss recent developments in the continuing effort to combat the consequences of TBI and new ways to enhance repair of the damaged brain.
Keywords
Traumatic brain injury
Blood–brain barrier
Neuroinflammation
Cytokines
Chemokines
Stem cells
Introduction
Traumatic brain injury (TBI) is a complex process involving a broad spectrum of symptoms and long-term consequences including disabilities. It is a serious health problem in the United States and around the world. Recent data show that approximately 1.7 million people sustain a TBI annually [1, 2] including U.S. soldiers involved in combat operations and public safety personnel surviving terrorist attacks. An estimated 150 to 300,000 military personnel from Operation Iraqi Freedom and Operation Enduring Freedom suffered from TBI [3–5]. It contributes to 30% of all injury-related deaths and costs about $60 billion annually. TBI of any form, mild to severe, can cause intellectual and cognitive deficits, mood and behavioral changes both short- and long-term [6–9]. In the long term, these can cause potentially permanent changes and may lead to post-traumatic stress disorder (PTSD) in the general population as well as those in the military. Besides psychological symptoms, immune suppression from TBI and subsequent infections are important consequences [10].
Although TBI can range from mild to severe, most TBI is mild and characterized by brief changes in mental status and cognitive ability [11]. Although the consequences of mild TBI are not readily appreciated, it can still cause infrastructural damage to the brain and secondary axonal injury [12] and shows symptoms like cognitive or intellectual deficits and behavioral and personality changes even six months after injury [10]. In most patients suffering from mild brain injury, the symptoms disappear within six months but many others suffer in a variety of ways that may be underappreciated and treated inadequately or improperly. Even under asymptomatic conditions, unhealed neurodegeneration may cause a spectrum of diseases with huge cost to society [10].
Once the brain suffers mechanical insult, the injury process evolves over time and includes (a) primary injury caused by direct or indirect contusion resulting in shearing or stretching of brain tissue, subdural hematoma and cerebral ischemia (b) secondary injury characterized by diffuse axonal injury and inflammatory reactions, and (c) regeneration. The secondary, that is, the nonmechanical injury phase, is progressive and lasts from hours to days [
13
,
14
], significantly contributing to neurological disabilities [
15
]. Injury to the cerebral vasculature breaks the blood–brain barrier (BBB), allows entry of immune cells and stimulates inflammatory reactions. The molecular events result in apoptosis, inflammation, altered plasticity and neuronal regeneration. The complex nature of acute and chronic inflammatory reactions may aggravate the pathologic outcome or promote the repair process [
16
,
17
]. Also, multiorgan damage in trauma patients can lead to elevated circulatory levels of inflammatory cytokines that may contribute to the post-TBI pathogenesis of the brain [
18
] and cause multiple organ dysfunction syndrome (MODS) and death [
19
]. In this review we discuss the mechanism of interaction between the systemic immune response and the brain after TBI and current novel treatment approaches to combat TBI-induced damage (Figure
1
).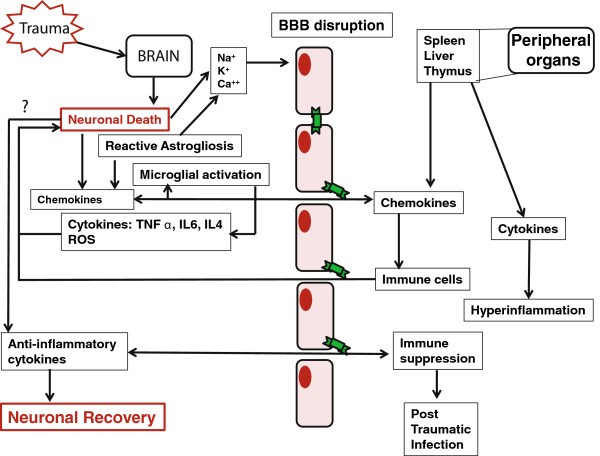 Conclusion
Traumatic brain injury is a complex process evoking systemic immune responses as well as direct local responses in the brain tissues. The primary or direct damage disrupts the BBB and injures the neurons. This initiates a cascade of inflammatory reactions including chemokine production and activation of resident immune cells. The leakage of the inflammatory molecules through the compromised BBB attracts peripheral immune cells to the site of injury. The effect of TBI is not restricted to the brain; it can cause multi-organ damage and evoke systemic immune response including cytokine and chemokine production. This facilitates the recruitment of immune cells to the site of injury and progression of the inflammatory reaction and subsequent repair processes. In spite of the socioeconomic burden of TBI and worldwide research efforts, an effective treatment is still not available. Translational regulation of mRNA by si/mi RNA shows promise as a safe and specific treatment to combat neurodegeneration. Transplantation-based therapies also have the potential to repair and restore brain structure and function but continued in-depth investigations are needed before they become successful therapeutics.
Declarations
Acknowledgements
This work is supported by the Office of Naval Research grant (N000140810914) to SSM and the Veterans Reintegration grant from University of South Florida to SM. We acknowledge Dr. Gary Hellermann for critical review and editing of the manuscript.
Authors' Affiliations
(1)
Nanomedicine Research Center, University of South Florida Morsani College of Medicine, Tampa, USA
(2)
Department of Internal Medicine, Division of Translational Medicine, University of South Florida Morsani College of Medicine, Tampa, USA
(3)
Department of Molecular Medicine, University of South Florida Morsani College of Medicine, Tampa, USA
(4)
James A. Haley Veteran's Hospital and Medical Research Center, Tampa, USA
Copyright
© Das et al.; licensee BioMed Central Ltd. 2012
This article is published under license to BioMed Central Ltd. This is an Open Access article distributed under the terms of the Creative Commons Attribution License ( http://creativecommons.org/licenses/by/2.0), which permits unrestricted use, distribution, and reproduction in any medium, provided the original work is properly cited.