Transcriptomics and proteomics analyses of the PACAP38 influenced ischemic brain in permanent middle cerebral artery occlusion model mice
Journal of Neuroinflammation
2012
9:256
Received: 20 June 2012
Accepted: 19 October 2012
Published: 23 November 2012
Abstract
Introduction
The neuropeptide pituitary adenylate cyclase-activating polypeptide (PACAP) is considered to be a potential therapeutic agent for prevention of cerebral ischemia. Ischemia is a most common cause of death after heart attack and cancer causing major negative social and economic consequences. This study was designed to investigate the effect of PACAP38 injection intracerebroventrically in a mouse model of permanent middle cerebral artery occlusion (PMCAO) along with corresponding SHAM control that used 0.9% saline injection.
Methods
Ischemic and non-ischemic brain tissues were sampled at 6 and 24 hours post-treatment. Following behavioral analyses to confirm whether the ischemia has occurred, we investigated the genome-wide changes in gene and protein expression using DNA microarray chip (4x44K, Agilent) and two-dimensional gel electrophoresis (2-DGE) coupled with matrix assisted laser desorption/ionization-time of flight-mass spectrometry (MALDI-TOF-MS), respectively. Western blotting and immunofluorescent staining were also used to further examine the identified protein factor.
Results
Our results revealed numerous changes in the transcriptome of ischemic hemisphere (ipsilateral) treated with PACAP38 compared to the saline-injected SHAM control hemisphere (contralateral). Previously known (such as the interleukin family) and novel (Gabra6, Crtam) genes were identified under PACAP influence. In parallel, 2-DGE analysis revealed a highly expressed protein spot in the ischemic hemisphere that was identified as dihydropyrimidinase-related protein 2 (DPYL2). The DPYL2, also known as Crmp2, is a marker for the axonal growth and nerve development. Interestingly, PACAP treatment slightly increased its abundance (by 2-DGE and immunostaining) at 6 h but not at 24 h in the ischemic hemisphere, suggesting PACAP activates neuronal defense mechanism early on.
Conclusions
This study provides a detailed inventory of PACAP influenced gene expressions and protein targets in mice ischemic brain, and suggests new targets for thereaupetic interventions.
Keywords
CRMP2CrtamDNA microarrayGabra6Ischemia Il6 NeuroprotectionPACAP
Introduction
In 1989, a new hypothalamic hormone with the significant ability to activate adenylate cyclase in rat pituitary cell cultures was discovered and aptly named pituitary adenylate cyclase-activating polypeptide or PACAP [1, 2]. As reported in those first papers, PACAP exists in two amidated forms, PACAP38 and its truncated form, PACAP27. The ovine PACAP38 is 176 amino acids long, proceeded by a putative signal peptide and a proregion (107 amino acids), and followed by a Gly-Arg-Arg sequence for proteolytic processing and C-terminal amidation; the human PACAP38 has been shown to be identical to the isolated ovine PACAP [3]. The sequence of PACAP38 encompasses an internal cleavage-amidation site (Gly28-Lys29-Arg30), suggesting that it can generate a 27 residue-amidated polypeptide fragment or PACAP27. Similarly, the rat (PACAP precursor that is highly similar to the ovine and human PACAP precursors) and the mouse (PACAP precursor shows 81 to 93% sequence similarity) PACAP cDNAs were cloned (reviewed in [4]).
To briefly note some characteristics, PACAP is a member of the secretin, glucagon, and vasoactive intestinal polypeptide (VIP) family showing the most homology to VIP; all peptides are present in the tissue but PACAP38 is the most dominant form [5]. An important finding was on the potency of adenylate cyclase activation by PACAP 1,000 to 10,000 times greater than VIP, as demonstrated in pituitary cell, neuron, and astrocyte cultures. PACAP and its receptors (PAC1, VPAC1, and VPAC2) are widely distributed in the brain (central nervous system, CNS) and peripheral organs (notably endocrine pancreas, gonads, respiratory, and urogenital tracts). Consequently, PACAP exerts pleiotropic effects including control of neurotransmitter release, vasodilation, bronchodilation, activation of intestinal motility, increase in insulin and histamine secretion, immune modulation, and stimulation of cell proliferation and/or differentiation. These and other characteristics and functions of PACAP are comprehensively reviewed by Arimura [4] and Vaudry et al. [6].
PACAP is now considered a potent neurotrophic and neuroprotective peptide [7–11]. The specific role of PACAP in neuroprotection is of interest to our study, and forms the basis for the present experiments with an aim to unravel new potential targets of PACAP at the gene and/or protein level, and possible mechanisms involved therein. PACAP exerts potent neuroprotective effects not only in vitro but also in in vivo models of Parkinson's disease, Huntington's disease, traumatic brain injury, and stroke. The neuroprotective effects of PACAP are based on its capacity to prevent neuronal apoptosis by acting directly on neurons or indirectly through the release of neuroprotective factors by astrocytes [12, 13]. These biological activities are mainly mediated through activation of the PAC1 receptor which is currently considered a potential target for the treatment of neurodegenerative diseases. However, the use of native PACAP, the endogenous ligand of PAC1, as an efficient neuroprotective drug is actually limited by its rapid degradation. Moreover, injection of PACAP in humans induces peripheral side effects that are mainly mediated through VPAC1 and VPAC2 receptors [7].
The intraventricular infusion of PACAP38 at 1 pmol/h significantly delayed neuronal cell death in the hippocampal CA1 region that would normally occur a couple of days after induction of ischemia. The intravenous administration of PACAP (only 16 pmol/h) decreased delayed neuronal cell death in the hippocampus. Subsequently, another study showed that PACAP quickly crosses the blood–brain barrier at approximately 0.12% by a saturable system. PACAP prevented delayed neuronal cell death even when it was given intravenously 24 h after ischemia induction. Moreover, anti-apoptotic factors and anti-cell-death pathways were increased by PACAP and decreased by the addition of the PAC1R antagonist, PACAP 6–38, after ischemia and in other in vitro studies. The studies suggest that the neuroprotection by PACAP depends on the activation of the PAC1R, and exogenous PACAP might extend the therapeutic time window for treatment of ischemia-related conditions, such as stroke [10].
In an effort to unravel PACAP molecular targets in the brain, especially under ischemia, we further advanced our research using the established permanent middle cerebral artery occlusion (hereafter referred to as PMCAO) model mice and the optimized DNA microarray approach with the 44K mouse whole genome chip [14]. Our study employed the intraluminal filament technique PMCAO model because of its simplicity and noninvasive characteristics compared to the classical electrocoagulation method for PMCAO. The transient MCAO results in reperfusion injury, and to avoid this complication, the method of choice was in favor of intraluminal PMCAO. Further, we also applied the proteomics approach [15, 16] to examine the protein changes in the same sample/brain hemisphere as was used for the transcriptomics study.
We used DNA microarray analysis to answer two questions. 1) What are the PACAP influenced genes? 2) Can we pinpoint the transcripts specifically altered (increased or decreased) by PACAP, that is, the genes that are not the result of ischemia itself, and are predominantly regulated by PACAP? By proteomics, we aimed to identify proteins from the two-dimensional gel profile that was differentially regulated by PACAP under the ischemic condition. Our results reveal numerous potential gene candidates, such as interleukin family members, Gabra6, and Crtam that might be involved in PACAP-mediated neuroprotective mechanisms. The identification of an important protein involved in neuronal function, the collapsin response mediator protein (CRMP2) [17], was another key finding of a PACAP-regulated protein in the ischemic hemisphere. Results presented show the usefulness of omics approaches in screening of potential targets of PACAP-regulated genes and proteins.
Results and discussion
Selection of PMCAO mice with neurological grades between 1 and 2 and preparation of brain tissues for grinding in liquid nitrogen
Mice exhibiting neurological deficiency 6 and 24 hours after PMCAO were graded according to a routinely used methodology in our laboratory [13, 18]. Sixteen mice that exhibited neurological grade (NG) 1 and 2 were used for further experiments; two mice died, and one had NG 0 (no PMCAO) and one had NG 3 (extreme neurological symptoms) (Additional file 1: Table S1). The selected mice were decapitated and the brains were dissected on ice. The ipsilateral (right hemisphere, non-injected) and contralateral (left hemisphere; injected with saline or PACAP38) hemispheres without the olfactory bulb (OB) and cerebellum were quickly separated, placed in 2-mL Eppendorf tubes, and deep frozen in liquid nitrogen followed by storage at −80°C. Brains were ground to a very fine powder in liquid nitrogen; aliquots of the finely powdered tissue samples were stored at −80°C, and used for extraction of total RNA or protein thus giving a comparative data expression analysis in the same sample.
Overview of the brain genomic response to PACAP38 injection in the ischemia brain (ipsilateral hemisphere) by DNA microarray analysis
Two-dimensional gel electrophoresis western blotting, and immunofluorescent staining analysis identifies CRMP2 as a candidate protein factor in PACAP-influenced neuroprotection in the ischemic hemisphere
Total soluble protein profiles were first examined by one-dimensional gel electrophoresis (SDS-PAGE). Staining the separated proteins with Flamingo fluorescent stain showed no significant differences in polypeptide patterns among all the samples examined (Additional file
6
: Figure S4). Therefore, we proceeded to two-dimensional analysis. Flamingo-stained two-dimensional gel protein spots clearly revealed a major and newly appeared spot with a molecular weight of approximately 60 kDa and a pI of 5.5, in the ischemic hemisphere at 6 h (lower left two-dimensional gel image, Figure 
5
A) over the sham saline sample; this spot was also observed in the PACAP38-treated ischemic brain (lower right two-dimensional gel, Figure 
5
A) over the sham PACAP sample. Interestingly, the same spot was also observed at a much stronger intensity (more than 2-fold) in the ischemic hemisphere at 24 h (lower left two dimensional gel image, Figure 
5
B) but not in the sham saline sample. Two additional minor spots appeared at approximately the same molecular weight range but with a slightly acidic pI (isoelectric point). Surprisingly, and in contrast to the 6 h results, the major and minor spots were not found in the PACAP38-treated brain (lower right two-dimensional gel image, Figure 
5
B) over the sham PACAP sample. To identify the protein in these newly appearing spots, we excised these three spots from the stained gels and after in-gel trypsin digestion analyzed the peptides by MALDI-TOF-MS, as described in Methods. The MASCOT search revealed the major abundant protein to be a dihydropyrimidinase-related protein 2 (DPYL2_MOUSE) or collapsin response mediator protein 2 (CRMP2_MOUSE). No significant data (protein IDs) could be obtained for the two protein spots with the lowest abundance appearing exclusively at 24 h post ischemia. The CRMP2 protein, as it more popularly known, is involved in axonal growth and neuronal differentiation [
17
]. Although there is no information to date on the effects of PACAP on the CRMP2 protein, a few studies have already shown that the CRMP2 protein is induced in the brain after focal cerebral ischemia, in old mouse brains, and in the cerebral cortex of rats [
38
–
40
].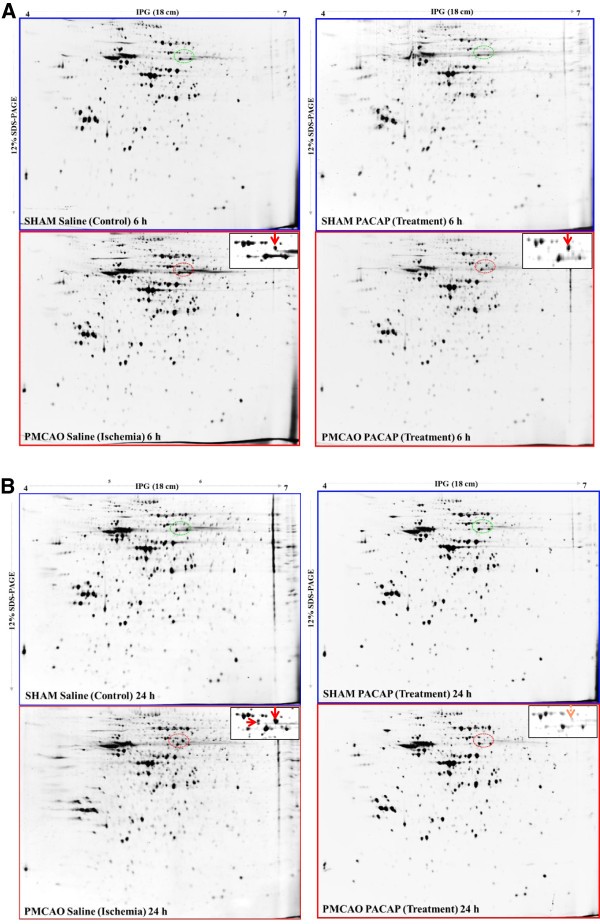 We next examined by western blot analysis the CRMP2 protein profile on SDS-PAGE. Using a specific CRMP2 protein antibody three main bands of approximately 70, 65, and 63 kDa were detected (Figure 
6
). No significant change in protein expression was seen among the sham control and PMCAO samples, with or without PACAP38 treatment. However, in the PMCAO samples only, at an approximate molecular weight of 56 kDa, a cross-reacting protein band was seen. At 6 h post-ischemia, the 56 kDa protein was increased in abundance over the minus-PACAP sample. At 24 h post-PACAP treatment the 56 kDa protein band was found at very low levels. This result matches the induction profile of the major protein spot seen on the two-dimensional gels. Further, using two anti-phosphorylated CRMP2 proteins antibodies, approximately 70 and 65 kDa and 70 kDa cross-reacting bands were observed. However, no significant change in abundance of protein bands was observed (Additional file
17
: Figure S7). No specific band at the 56 kDa molecular weight was seen in the PMCAO group. These data rule out the possibility of protein phosphorylation as a post-translational modification for the appearance of the 56 kDa cross-reacting protein band.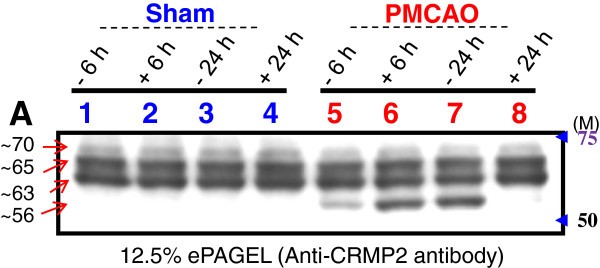 Immunofluorescent staining using anti-CRMP2 antibody revealed that the CRMP2 protein is localized to the cytoplasm in neuronal cells as is evident from the healthy region of the ipsilateral hemisphere (Figure 
7
). Interestingly, in the penumbra, the CRMP2 protein appears to be more abundant in the 6-h PACAP group. In the core region, the CRMP2 protein is reduced in abundance, in particular under PACAP38 treatment, especially prominent by almost no presence of CRMP2 at 24 h after PACAP treatment to the ischemic brain. Comparing these three data, it can be stated that 1) two-dimensional gel electrophoresis and western blot analysis confirmed the presence of a newly appearing 56 kDa protein, 2) PACAP treatment influences its induction at 6 h post-treatment in the ischemic hemisphere, and 3) a very low level of the CRMP2 protein on two-dimensional gel at 24 h post-ischemia under PACAP treatment correlates well with the results seen from western blot analysis data and immunofluorescent staining of the core region. In other words, our results show that PACAP treatment affects the expression of CRMP2 protein, but how PACAP and CRMP2 are involved in neuroprotection of the brain remains to be answered.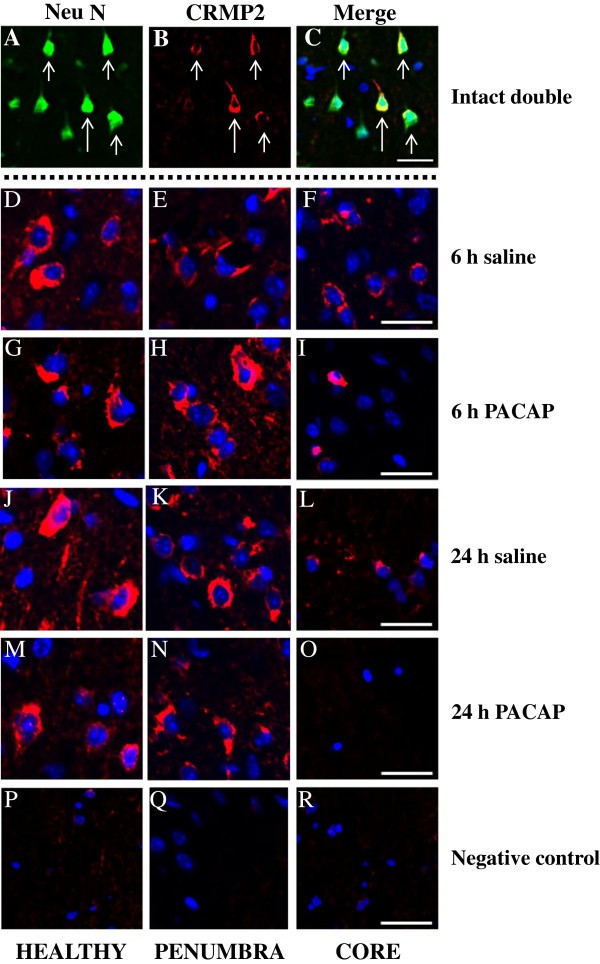 Conclusions
To our knowledge the omics-based study demonstrates significant change in gene and protein expressions after PACAP38 injection in the ischemic brain. Results presented in the study highlight the usefulness of global gene expression profiling in searching for changes in gene expression, and delineating the molecular events in a defined experimental PMCAO model. Furthermore, the proteomics approach proved to be critical in identifying the CRMP2 protein, which was surprisingly the most abundant and newly appearing protein spot on the two-dimensional gel. Post-confirmation of the two-dimensional gel spot by MS and western blot analyses, immuno-double staining revealed the possibility of CRMP2 as a controlling factor in PACAP-regulated control of ischemic neuroprotection. Forward or reverse genetic approaches involving certain target genes, including the most promising candidate CRMP2 protein, will be necessary to increase our understanding of the functional role of various genes in response to an ischemic injury and to clarify the precise mechanism behind PACAP38-induced neuroprotection. Furthermore, to further enhance our understanding of the functional roles of the many identified gene and protein candidates, future work such as utilizing the integrated pathway analysis (IPA) software for predicting the possible pathways and underlying mechanisms of PACAP-mediated molecular changes, and experiments, especially with the PACAP knockout mice, will be essential. Finally, the numerous specific PACAP target transcripts that were unannotated have not been discussed here, and will be also a target for future studies.
Abbreviations
CAN:

Acetonitrile
CNS:

Central nervous system
CRMP2:

Collapsin response mediator protein-2
Crtam:

Regulatory T cell molecule
DAPI:

4′ 6-diamidine-2-phenylindole dihydrochloride
DPYL2:

Dihydropyrimidinase-related protein 2
IL:

Interleukin
MALDI-TOF-MS:

Matrix-assisted laser desorption/ionization-time of flight-mass spectrometry
MS:

Mass spectrometry
NG:

Neurological grade
PACAP:

Pituitary adenylate cyclase-activating polypeptide
PB:

Phosphate buffer
PBS:

Phosphate-buffered saline
PMCAO:

Permanent middle cerebral artery occlusion
PVDF:

Polyvinyldifluoride
TFA:

Trifluoroacetic acid
VIP:

Vasoactive intestinal polypeptide.
Declarations
Acknowledgements
MH gratefully acknowledges the members of Professor Seiji Shioda's laboratory (Department of Anatomy I) for their support and encouragement during this study. This work was supported in part by Grant-in-Aid for Scientific Research (TN and SS) and High-Technology Research Center Project (SS) from the Ministry of Education, Culture, Sports, Science and Technology, Japan, and Support Program for the Strategic Research Foundation at Showa University, 2008 to 2012.
Authors' Affiliations
(1)
Department of Forensic Medicine and Molecular Pathology, School of Medicine, Kyoto University, Kyoto, Japan
(2)
Department of Anatomy I, School of Medicine, Showa University, Shinagawa, Tokyo, Japan
(3)
Department of Center for Biotechnology, Showa University, Shinagawa, Tokyo, Japan
(4)
Graduate School of Life and Environmental Sciences, University of Tsukuba, Tsukuba, Japan
Copyright
© Hori et al.; licensee BioMed Central Ltd. 2012
This article is published under license to BioMed Central Ltd. This is an Open Access article distributed under the terms of the Creative Commons Attribution License (http://creativecommons.org/licenses/by/2.0), which permits unrestricted use, distribution, and reproduction in any medium, provided the original work is properly cited.