Retinopathy of prematurity: inflammation, choroidal degeneration, and novel promising therapeutic strategies
Journal of Neuroinflammation
2017
14:165
Received: 25 February 2017
Accepted: 14 August 2017
Published: 22 August 2017
Abstract
Retinopathy of prematurity (ROP) is an important cause of childhood blindness globally, and the incidence is rising. The disease is characterized by initial arrested retinal vascularization followed by neovascularization and ensuing retinal detachment causing permanent visual loss. Although neovascularization can be effectively treated via retinal laser ablation, it is unknown which children are at risk of entering this vision-threatening phase of the disease. Laser ablation may itself induce visual field deficits, and there is therefore a need to identify targets for novel and less destructive treatments of ROP. Inflammation is considered a key contributor to the pathogenesis of ROP. A large proportion of preterm infants with ROP will have residual visual loss linked to loss of photoreceptor (PR) and the integrity of the retinal pigment epithelium (RPE) in the macular region. Recent studies using animal models of ROP suggest that choroidal degeneration may be associated with a loss of integrity of the outer retina, a phenomenon so far largely undescribed in ROP pathogenesis. In this review, we highlight inflammatory and neuron-derived factors related to ROP progression, as well, potential targets for new treatment strategies. We also introduce choroidal degeneration as a significant cause of residual visual loss following ROP. We propose that ROP should no longer be considered an inner retinal vasculopathy only, but also a disease of choroidal degeneration affecting both retinal pigment epithelium and photoreceptor integrity.
Keywords
InflammationNeuron-derived factorsChoroidal degenerationRetinopathy of prematurity
Background
Retinopathy of prematurity (ROP) represents an important cause of childhood blindness worldwide [1, 2]. In high-income countries, ROP-associated blindness incidence has been reported to be lower than 10% of extremely preterm born children; however, in low- and particularly middle-income countries, the incidence is greater than 40% with increasing survival of infants born preterm and limited fundoscopic follow-up evaluation [3–5].
ROP is considered a multifactorial disease, and its pathogenesis has been extensively studied in humans and in several animal models. In premature infants, the development of ROP proceeds with an initial phase of retinal microvascular degeneration [6, 7] associated with an arrest in progressive vascularization of the peripheral retina. These vascular changes result in retinal ischemia which predisposes to abnormal intravitreal neovascularization leading to its most significant sequelae retinal detachment and permanent visual loss. Even though pathological neovascularization in ROP may be prevented with treatment limiting tissue ischemia (laser ablation of the retina) and/or hypersecretion of VEGF (intravitreal injection of anti-VEGF), still a clear understanding of the mechanisms implicated in the progression of ROP from phase 1 to phase 2 is needed to develop new therapeutic alternatives. So far, several risk factors in the initial phase of ROP have been discussed [8, 9]. For instance other than prematurity, growth restriction is in addition to hyperoxia, an established risk-factor for ROP development [10, 11]. According to this, the WINROP tool (weight, insulin-like growth factor I, neonatal, retinopathy of prematurity) based on neonatal growth and measurements of levels of insulin-like growth factor-1 (IGF-1) has recently been developed as a prognostic marker [12]. On the other hand, it is known that premature neonates are susceptible to infection because of immature immune system. Inflammation has been shown to play an important role in the development of normal and pathological angiogenesis in the retina [13–16]. Interestingly, in the last 5 years, a series of epidemiological studies have supported the hypothesis that neonatal inflammation is a key modulator in the development and progression of ROP [17–19]. In the ELGAN study cohort, inflammatory stimuli such as bacteria in the placenta [20] and late bacteremia [21] were risk factors for developing ROP. Moreover, systemic inflammation in neonates has been shown to perturb retinal vessel development and to induce pathological features of ROP in animal models [22, 23]. Inflammatory factors such as cytokines, chemokines, hypoxia-inducible factors, hormones, nitric oxide, growth factors, or inflammatory cells such as leucocytes, monocytes, or macrophages/microglia are implicated in the control of angiogenesis and/or play a detrimental role in the developing vasculature [24, 25]. Furthermore, the influence of inflammation in the regulation of neuron-derived signaling molecules that causes endothelial cell injury during ROP has recently been highlighted. Notably, the beneficial or detrimental effect of all these components may depend on the time of action, duration, concentrations, and target tissue.
The retina is essentially an outgrowth of the brain where neural and vascular tissue develops in close proximity during fetal and neonatal life [26]. It is therefore conceivable that pathological processes that occur in the developing retina also can occur in the brain. An example of this is the augmented inflammatory response associated with retinal and preterm brain injury during hypoxia-ischemia [27, 28]. Therefore, in addition to the risk of a poor visual outcome, infants with ROP are at increased risk of dysfunctions associated with non-visual disabilities such as brain damage [29], physical and cognitive impairment at 5 years [30, 31], below-grade-level academic performance at 8 years [32], and lower health-related quality of life at 10 years of age [33]. In fact, approximately 55% of children with ROP sustain long-term neurodevelopmental disabilities [34]. These studies suggest a shared etiology of visual and non-visual developmental disabilities in preterm born children. Consequently, expanding the knowledge of ROP pathogenesis has the potential to contribute to preventing both the pathological vascularization and the risk of retinal detachment in ROP, as well as the complications and diseases that are associated with ROP.
An enigma on long-term outcome following ROP has been the residual visual loss that may occur in patients regardless of regression of neovascular changes. Indeed, there are indications that ROP affects the late-maturing central retina with long-term deficits in photoreceptor-functioning [35, 36]. The choroid supplies the central outer retina with oxygen and nutrients, and deficits in choroidal maturation could participate in visual deficits following ROP [35]. Knowledge on how choroidal degeneration influences the integrity of the retinal pigment epithelium (RPE) and photoreceptor layers might be important in understanding the long-term damages following ROP, such as residual visual loss.
The present review addresses established concepts as well as emerging evidence implicating inflammation in the pathogenesis of ROP, the detection of choroidal degeneration and possible consequences in ROP, and some promising therapeutic strategies for this disorder.
Conclusion
The search for biomarkers to identify children at risk of vision-threatening ROP has led to identification of several promising indicators related to inflammation and angiogenesis. Although many of the harmful effects of pre- and postnatal inflammation are known, there is a lack of validated markers that can help identify children at-risk of ROP. The two-phase development of ROP underscores the importance of assessing biomarker concentrations over time when studying ROP pathogenesis, since a specific biomarker can exert opposing outcomes depending on the disease phase. Less destructive tissue-preserving therapies (than current laser ablation) are being explored, and include IGF-1, PUFAs, and potentially stem cell therapy, as well as, modulation of factors involved in neuronal guidance of vasculature and inflammation. In the overall context of ROP, the role of choroid degeneration in ROP also needs to be accounted for (Fig.
1
). Although it is clear that a large body of our knowledge on the molecular aspects of the pathogenesis of ROP stems from animal models with OIR, yet OIR does not fully reflect the complex human condition of ROP. This emphasizes the added importance of epidemiological studies with an unbiased molecular dimension.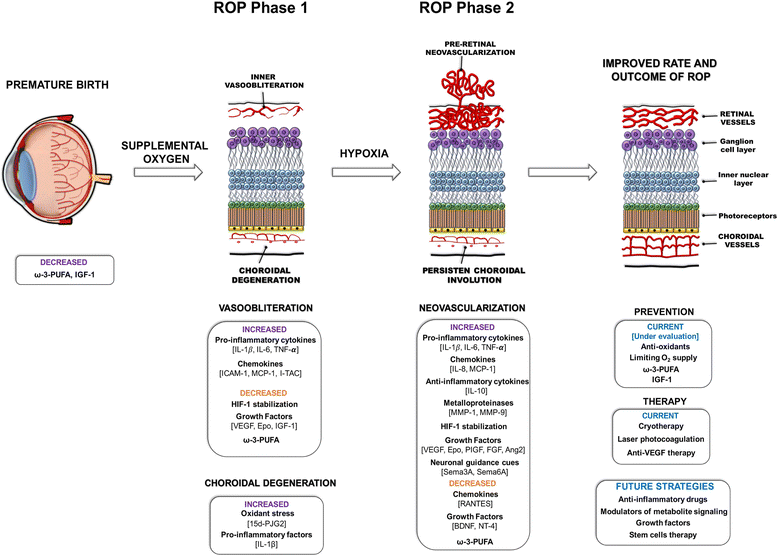 Abbreviations
15d-PGJ2:

Electrophile 15-deoxy-12,14-PGJ2
AAV:

Adeno-associated virus
Ad:

Adenovirus
Ang1:

Angiopoietins 1
BDNF:

Brain-derived neurotrophic factor
bFGF:

Asic fibroblast growth factor
DHA:

Docosahexaenoic acid
EPO:

Erythropoietin
IGF-1:

Insulin-like growth factor-1
I-TAC:

Interferon-inducible T-cell α chemoattractant
MCP1:

Monocyte chemotactic protein 1
MMP:

Matrix Metalloproteinase
Nrf2:

Transcription factor NF-E2-related factor 2
NT-4:

Neurotropin 4
OIR:

Oxygen-induced retinopathy
PGD2:

Prostaglandin D2.
PIGF:

Placental growth factor
PR:

Photoreceptors
PUFAs:

Polyunsaturated fatty acids
ROP:

Retinopathy of prematurity
ROS:

Reactive oxygen species
RPE:

Retinal pigment epithelium
Sema3A:

Semaphorin 3A
Sema3E:

Semaphorin3E
shRNA:

Small hairpin RNA
TIMP3:

Tissue inhibitor of metalloproteinases 3
TSH:

Thyroid-stimulating hormone
VEGF:

Vascular endothelial growth factor
WINROP:

Weight, insulin-like growth factor I, neonatal, retinopathy of prematurity
Declarations
Acknowledgements
Not applicable.
Funding
SC holds a Canada Research Chair (Translational Research in Vision) and the Leopoldine Wolfe Chair in translational research in age-related macular degeneration. Work related to ROP has been supported by Canadian Institutes of Health Research (SC), March of Dimes (SC), and National Institutes of Health (OD).
Availability of data and materials
Not applicable.
Authors' contributions
JCR and MH are the major contributors in written the manuscript. DA, TSM, TEZ, ABR, and EMS corrected and gave suggestions to the manuscript. JCR designed the drawing for the manuscript. OD and SC provided expert advice and gave important suggestions for improving the manuscript. All authors read and approved the final manuscript.
Ethics approval and consent to participate
Not applicable.
Consent for publication
Not applicable.
Competing interests
The corresponding author (SC) holds a patent on a small peptide antagonist of IL-1 receptor, which could be useful in inflammatory ischemic retinopathies; yet, this compound remains at pre-clinical stage and the intellectual property is held by the CHU Ste. Justine, Montreal. Hence the competing interests are at best questionable.
Publisher's Note
Springer Nature remains neutral with regard to jurisdictional claims in published maps and institutional affiliations.
Open AccessThis article is distributed under the terms of the Creative Commons Attribution 4.0 International License (http://creativecommons.org/licenses/by/4.0/), which permits unrestricted use, distribution, and reproduction in any medium, provided you give appropriate credit to the original author(s) and the source, provide a link to the Creative Commons license, and indicate if changes were made. The Creative Commons Public Domain Dedication waiver (http://creativecommons.org/publicdomain/zero/1.0/) applies to the data made available in this article, unless otherwise stated.
Authors' Affiliations
(1)
Department of Pediatrics, Ophthalmology and Pharmacology, Centre Hospitalier Universitaire Sainte-Justine Research Center, Montréal, Canada
(2)
Department of Ophthalmology, Maisonneuve-Rosemont Hospital Research Center, University of Montréal, Montréal, Canada
(3)
Department of Laboratory Medicine, Children's and Women's Health, Norwegian University of Science and Technology (NTNU), Trondheim, Norway
(4)
Department of Ophthalmology, Trondheim University Hospital, Trondheim, Norway
(5)
Department of Neuromedicine and Movement Science, Norwegian University of Science and Technology (NTNU), Trondheim, Norway
(6)
Departament of Public Health Community Medicine, Tufts University School of Medicine, Boston, USA
(7)
Perinatal Neuroepidemiology Unit, Hannover Medical School, Hannover, Germany