Complex molecular and functional outcomes of single versus sequential cytokine stimulation of rat microglia
Journal of Neuroinflammation
2016
13:66
Received: 8 February 2016
Accepted: 16 March 2016
Published: 24 March 2016
Abstract
Background
Microglia are the "professional" phagocytes of the CNS. Phagocytosis is crucial for normal CNS development and maintenance, but it can be either beneficial or detrimental after injury or disease. For instance, white matter damage releases myelin debris that must be cleared by microglia in order for re-myelination to occur. However, phagocytosis can also produce damaging reactive oxygen species (ROS). Furthermore, microglia can acquire pro-inflammatory (M1) or anti-inflammatory (M2) activation states that affect cell functions. Although microglia are exposed to a changing cytokine environment after injury or disease, little is known about the molecular and functional consequences. Therefore, we applied several microglial activation paradigms, with or without myelin debris. We assessed (i) gene expression changes reflecting microglial activation and inflammatory states, and receptors and enzymes related to phagocytosis and ROS production, (ii) myelin phagocytosis and production of ROS, and (iii) expression and contributions of several ion channels that are considered potential targets for regulating microglial behavior.
Methods
Primary rat microglia were exposed to cytokines, individually or sequentially. First, responses to individual M1 or M2 stimuli were compared: IFN-γ plus TNF-α ("I + T"; M1 activation), interleukin-4 (M2a/alternative activation), and interleukin-10 (M2c/acquired deactivation). Second, sequential cytokine addition was used to assess microglia repolarization and cell functions. The paradigms were M2a→M1, M2c→M1, M1→M2a, and M1→M2c.
Results
M1 stimulation increased pro-inflammatory genes, phagocytosis, and ROS, as well as expression of Kv1.3, KCa3.1, and Kir2.1 channels. M2a stimulation increased anti-inflammatory genes, ROS production, and Kv1.3 and KCa3.1 expression. Myelin phagocytosis enhanced the M1 profile and dampened the M2a profile, and both phagocytosis and ROS production were dependent on NOX enzymes and Kir2.1 and CRAC channels. Importantly, microglia showed some capacity for re-polarization between M1 and M2a states, based on gene expression changes, myelin phagocytosis, and ROS production.
Conclusions
In response to polarizing and re-polarizing cytokine treatments, microglia display complex changes in gene transcription profiles, phagocytic capacity, NOX-mediated ROS production, and in ion channels involved in microglial activation. Because these changes might affect microglia-mediated CNS inflammation, they should be considered in future experimental, pre-clinical studies.
Keywords
NeuroinflammationCNS phagocytesMicroglia molecular polarizationMicroglial activation statesM1, M2a, M2c activationMyelin phagocytosisPhagocytosis receptor expressionK+ channelsCa2+ channelsROS production
Background
Phagocytosis is crucial during central nervous system (CNS) development and in the healthy adult to both promote and maintain appropriate synaptic connections and homeostasis. After CNS injury or disease, phagocytosis is crucial for clearing cellular debris, including degenerated myelin after acute injury or degenerative diseases, such as multiple sclerosis. For CNS repair to occur, myelin debris must be rapidly removed because it inhibits differentiation of oligodendrocyte precursor cells and re-myelination, and promotes formation of membrane attack complexes that further damage myelin [1–3]. Microglia are the "professional" phagocytes of the CNS. However, phagocytosis can have both beneficial and detrimental effects (reviewed in [3–9]). Microglia can exacerbate damage by producing excessive reactive oxygen species (ROS) during phagocytosis [10–12]. This ROS production, which is mediated by nicotinamide adenine dinucleotide phosphate (NADPH) oxidases (NOX enzymes), can contribute to DNA damage, lipid peroxidation, toxic protein alterations, and neurotoxicity [13–16].
In considering both harmful and helpful outcomes of phagocytosis, it is important to note that microglia can adopt several activation states or possibly a continuum of states (reviewed in [17–20]). It is generally thought that the pro-inflammatory (M1) state exacerbates tissue damage and that anti-inflammatory (M2) states help in tissue repair; however, very few studies have compared phagocytosis and ROS production in different activation states. Experimentally, M1 activation is usually evoked by lipopolysaccharide (LPS), with or without the pro-inflammatory cytokine, interferon gamma (IFN-γ). M2a (alternative) activation is evoked by interleukin-4 (with or without interleukin (IL)-13). M2c (acquired deactivation) is usually evoked by IL-10 (less often by glucocorticoid hormones). However, some suggest that IL-10 evokes gene changes more closely resembling an M1 profile [21]. Further complexity in microglial activation in vivo arises from dynamic changes in the CNS environment over time after injury or disease.
In vitro studies have addressed the microglial phagocytic capacity for plastic beads, bacteria, apoptotic cells, red blood cells, and less often, myelin. Little is known about the relationship between microglial activation states, myelin phagocytosis and ROS production, and, conversely, how myelin phagocytosis affects microglial activation states. The limited studies report that M1 activation of rat microglia increases phagocytosis of myelin (LPS or IFN-γ stimulation) [22]. Results on M2-activated microglia are inconsistent. M2a activation with IL-4 and/or IL-13 increased myelin phagocytosis by human microglia [23] but not rat microglia [22]. M2c activation of rat microglia with IL-10 increased myelin phagocytosis [22]. It is not known how sequentially exposing microglia to M1- versus M2-inducing cytokines affects their activation state, phagocytic capacity, or ROS production.
We began by comparing unstimulated, M1- and M2-activated rat microglia, quantifying myelin phagocytosis, ROS production, and expression of inflammatory mediators and receptors/enzymes related to phagocytosis and ROS production. Then, we examined how all these responses were affected by applying an M1 stimulus followed by an M2 stimulus and vice versa. Finally, under all the activation paradigms, we assessed expression and contributions of several ion channels that are known to regulate other functions of rat microglia: KCa3.1, Kv1.3, Kir2.1, as well as Orai and stromal interaction molecule (STIM) subunits that form store-operated and Ca2+ release-activated Ca2+ (CRAC) channels.
Methods
Primary cultures of rat microglia and activation states
Handling and sacrifice of rat pups was in accordance with guidelines from the Canadian Council on Animal Care and approved by the University Health Network Animal Care Committee (Animal Use Permit #914). Pure microglial cultures were prepared from 1–2-day-old Sprague-Dawley rat pups (Charles River, St. Constant, PQ, Canada), as before [24–27]. In brief, the meninges and cerebellum were removed from the excised brain, and the remaining tissue was mashed in cold minimal essential medium (MEM; Invitrogen, Carlsbad, CA), strained, and centrifuged at 300×g for 10 min. After re-suspending in MEM, cells were seeded in MEM that contained 10 % heat-inactivated fetal bovine serum (FBS; Wisent St. Bruno, PQ, Canada) and 0.05 mg/mL gentamycin (Invitrogen). The cells were incubated at 37 °C with 5 % CO2 for 48 h, and then, the medium was changed to remove cellular debris and non-adherent cells. After 5–6 days, microglia were harvested by shaking the flasks for 3–4 h on an orbital shaker at 70 rpm (37 °C, 5 % CO2). The supernatant that contained microglia was collected and centrifuged (300×g, 10 min), and the pellet was re-suspended in fresh MEM with 2 % heat-inactivated FBS and 0.05 mg/mL gentamycin. Microglia were seeded onto 96-well tissue culture plates at 7–8 × 104 cells/well (for phagocytosis and ROS assays), 7–8 × 104 cells/15 mm coverslip (for fluorescence microscopy), and >105 cells/coverslip (for mRNA collection).
To induce different activation states, microglia were exposed to recombinant rat cytokines (R&D Systems Inc., Minneapolis, MN). A classical (M1) state was induced by 20 ng/mL IFN-γ plus 50 ng/mL TNF-α (for 24 h): a treatment we refer to as "I + T". Alternative activation (M2a) was induced by 20 ng/mL IL-4 (for 24 h). Acquired deactivation (M2c) was induced with 20 ng/mL IL-10 (for 24 h). Stock solutions were made in sterile PBS with 0.3 % bovine serum albumin and stored at –20 °C. For sequential cytokine additions, the first treatment (IL-4 or I + T) was applied for 2 h, and then, the second (IL-4, I + T, IL-10) was added for an additional 22 h without washing.
nCounter gene expression assay (NanoString)
This multiplexed assay quantifies expression of multiple, investigator-selected genes in a single ribonucleic acid (RNA) sample, with sensitivity comparable to real-time quantitative RT-PCR [
28
]. We collected samples from separate microglia cultures (
n
 = 6) and extracted total RNA using TRIzol reagent (Invitrogen) and the RNeasy Mini Kit (QIAGEN, Mississauga, ON, Canada), as previously described [
24
,
25
,
29
]. RNA samples were stored at –80°C. Then, 200 ng of extracted RNA from each separate sample was sent for analysis to the Princess Margaret Genomics Centre (
www.pmgenomics.ca
; Toronto, Canada). A custom CodeSet (Table
1
) was designed by NanoString Technologies (Seattle, WA) for genes we had selected based on previously reported changes with M1 and M2 activation states, their role in phagocytosis or ROS production, and the channels being investigated in this study. RNA integrity was assessed using Nanodrop 1000, and then, the nCounter Gene Expression Assay (sample hybridization, detection, scanning) was conducted according to NanoString Technologies' recommendations. Data were normalized to the geometric mean expression of three housekeeping genes: hypoxanthine guanine phosphoribosyl transferase 1 (HPRT1), β-glucuronidase (GusB), and 60S ribosomal protein L32 (Rpl32). Reporter probe counts, which reflect the numbers of a particular mRNA transcript in the 200 ng RNA sample, were analyzed and quantified using the nCounterTM digital analyzer software2.
Table 1
Target sequences used to design custom CodeSet for nCounter assay
| Gene | Gene accession # | Target sequence |
| --- | --- | --- |
| Aif1 (Iba1) | NM_017196.2 | ATCGATATTATGTCCTTGAAGCGAATGCTGGAGAAACTTGGGGTTCCCAAGACCCATCTAGAGCTGAAGAAATTAATTAGAGAGGTGTCCAGTGGCTCCG |
| Ccl22 | NM_057203.1 | TACATCCGTCACCCTCTGCCACCACGTTTCGTGAAGGAGTTCTACTGGACCTCAAAGTCCTGCCGCAAGCCTGGCGTCGTTTTGATAACCATCAAGAACC |
| Cd11b (Itgam) | NM_012711.1 | CATCCCTTCCTTCAACAGTAAAGAAATATTCAACGTCACCCTCCAGGGCAATCTGCTATTTGACTGGTACATCGAGACTTCTCATGACCACCTCCTGCTT |
| Cd68 (ED1) | NM_001031638.1 | CTCTCATTCCCTTACGGACAGCTTACCTTTGGATTCAAACAGGACCGACATCAGAGCCACAGTACAGTCTACCTTAACTACATGGCAGTGGAATACAATG |
| Cd163 | NM_001107887.1 | CCTCTGTAATTTGCTCAGGAAACCAATCGCATACACTGTTGCCATGTAGTTCATCATCTTCGGTCCAAACAACAAGTTCTACCATTGCAAAGGACAGTGA |
| C1r | XM_001061611.1 | ACAAAGACCTTATGGGTTATGTCAGCGGCTTCGGGATAACAGAAGATAAAATAGCTTTTAATCTCAGGTTTGTCCGTCTGCCCATAGCCGATCGAGAGGC |
| Cybb (Nox2) | NM_023965.1 | CAGTACCAAAGTTTGCCGGAAACCCTCCTATGACTTGGAAATGGATCGTGGGTCCCATGTTCCTGTATCTGTGTGAGAGGCTGGTGCGGTTTTGGCGATC |
| Ptgs2 (COX-2) | NM_017232.3 | TTCGGAGGAGAAGTGGGTTTTAGGATCATCAACACTGCCTCAATTCAGTCTCTCATCTGCAATAATGTGAAAGGGTGTCCCTTTGCCTCTTTCAATGTGC |
| Cx3cr1 | NM_133534.1 | ATGTGCAAGCTCACGACTGCTTTCTTCTTCATTGGCTTCTTTGGGGGCATATTCTTCATCACCGTCATCAGCATCGACCGGTACCTCGCCATCGTCCTGG |
| FcγR1a | NM_001100836.1 | TGATGGATCATACTGGTGCGAGGTAGCCACGGAGGACGGCCGTGTCCTTAAGCGCAGCACCAAGTTGGAGCTATTTGGTCCCCAGTCATCAGATCCTGTC |
| FcγR2b | NM_175756.1 | CTGGTCCAAGGAATGCTGTAGATATGAAAGAAAACATCTAGAGTCCCTTCTGTGAGTCCTGAAACCAACAGACACTACGATATTGGTTCCCAATGGTTGA |
| FcγR3a | NM_207603.1 | GACTCTTGTTTGCAATAGACACAGTGCTGTATTTCTCGGTGCAGAGGAGTCTTCAAAGTTCCGTGGCAGTCTATGAGGAACCCAAACTTCACTGGAGCAA |
| Gusb | NM_017015.2 | TCATTTGATCCTGGATGAGAAACGAAAAGAATATGTCATCGGAGAGCTCATCTGGAATTTTGCTGACTTCATGACGAACCAGTCACCACTGAGAGTAACA |
| Havcr2 (TIM-3) | NM_001100762.1 | CGATGAAATTAAGGACTCTGGAGAAACTATCAGAACTGCTGTCCACATTGGAGTAGGCGTCTCTGCTGGGCTGGCCCTGGCACTTATTCTTGGTGTTTTA |
| Hprt1 | NM_012583.2 | AGCTTCCTCCTCAGACCGCTTTTCCCGCGAGCCGACCGGTTCTGTCATGTCGACCCTCAGTCCCAGCGTCGTGATTAGTGATGATGAACCAGGTTATGAC |
| Hvcn1 (Hv1) | XM_006249369.2 | ACCAAGAGGATGAGCAGGTTCTTGAAGCACTTCACAGTGGTGGGGGACGACTACCACACCTGGAATGTCAACTACAAGAAGTGGGAGAACGAGGAGGATG |
| Il6 | NM_012589.1 | GGAACAGCTATGAAGTTTCTCTCCGCAAGAGACTTCCAGCCAGTTGCCTTCTTGGGACTGATGTTGTTGACAGCCACTGCCTTCCCTACTTCACAAGTCC |
| Kcna3 (Kv1.3) | NM_019270.3 | GCCACCTTCTCCAGAAATATCATGAACCTGATAGACATTGTAGCCATCATCCCTTATTTTATTACTCTGGGCACTGAGCTGGCTGAGCGACAGGGTAATG |
| Kcnj2 (Kir2.1) | NM_017296.1 | GTTCTTTGGCTGTGTGTTTTGGTTGATAGCTCTGCTCCACGGGGATCTGGATGCTTCTAAAGAGAGCAAAGCGTGTGTGTCTGAGGTCAACAGCTTCACG |
| Kcnn4 (KCa3.1) | NM_023021.2 | TACGTCTCTACCTGGTGCCTCGCGCGGTACTTCTGCGTAGCGGGGTCCTGCTCAACGCGTCTTACCGCAGCATCGGGGCGCTCAACCAAGTCCGATTCCG |
| Mrc1 | NM_001106123.1 | CTTTGGAATCAAGGGCACAGAGCTATATTTTAACTATGGCAACAGGCAAGAAAAGAATATCAAGCTTTACAAAGGTTCCGGTTTGTGGAGCAGATGGAAG |
| Msr1 (SR-A) | NM_001191939.1 | CACGTTCCATGACAGCATCCCTTCCTCACAACACTATAAATGGCTCCTCCGTTCAGGAGAAACTGAAGTCCTTCAAAGTTGCCCTCGTCGCTCTCTACCT |
| Myc | NM_012603.2 | ACCGAGGAAAACGACAAGAGGCGGACACACAACGTCTTGGAACGTCAGAGGAGAAACGAGCTGAAGCGTAGCTTTTTTGCCCTGCGCGACCAGATCCCTG |
| Ncf1 | NM_053734.2 | TCCATTCCCAGCATCCCATAATTGGGCTTGTCCGTGTTCCAACATCTGGGCGGAATTTCACAGCCAAAGGTCAAGAGGACTGCTGTTACGTTCAAGGTCG |
| Nos2 (iNOS) | NM_012611.2 | ACGGGACACAGTGTCGCTGGTTTGAAACTTCTCAGCCACCTTGGTGAGGGGACTGGACTTTTAGAGACGCTTCTGAGGTTCCTCAGGCTTGGGTCTTGTT |
| Nox1 | NM_053683.1 | CCGAGAAAGAAGATTCTTGGCTAAATCCCATCCAGTCTCCAAACGTGACAGTGATGTATGCAGCATTTACCAGTATTGCTGGCCTTACTGGAGTGGTCGC |
| Nox4 | NM_053524.1 | TGTTGGACAAAAGCAAGACTCTACATATCACCTGTGGCATAACTATTTGTATTTTCTCAGGTGTGCATGTAGCTGCCCACTTGGTGAACGCCCTGAACTT |
| P2ry6 | NM_057124.2 | TGGCCCAACATGCCTGGCCCTCCAAAATTTCTATGTCAACCACAAAACTAAGACACCTGTGTTTCGGGGACTGGTCAGTTCATGCTTGTTATACCAGAAT |
| Orai1 | NM_001013982.1 | GCCTTCTCCACCGTCATCGGGACGCTGCTTTTCCTGGCCGAAGTCGTGCTGCTCTGCTGGGTGAAGTTCTTACCGCTCAAGAGGCAGGCGGGACAGCCAA |
| Orai3 | NM_001014024.1 | ACCTGTAATGTGCTTTACAGTTGGCATCCTGGGAGAGATTTTACATAGGCTCCTCAGATGAACCACTTTACACTTGGTGACTTGTGGTGGTGTGTCCCAC |
| Rpl32 | NM_013226.2 | CATCGTAGAAAGAGCAGCACAGCTGGCCATCAGAGTCACCAATCCCAACGCCAGGCTACGCAGCGAAGAGAATGAATAGATGGCTTGTGTGCCTGTTTTG |
| Sirpa | NM_013016.2 | AGGACATTCATTCTCGGGTCATCTGCGAGGTAGCCCACGTCACCTTGGAAGGACGCCCGCTTAATGGGACCGCTAACTTTTCTAACATCATCCGAGTTTC |
| Stim1 | NM_001108496.2 | TATCTATCGTGATTGGTGTGGGTGGCTGCTGGTTTGCCTATATCCAGAACCGTTACTCTAAGGAGCACATGAAGAAAATGATGAAGGATCTGGAAGGATT |
| Stim2 | NM_001105750.2 | TTCACAATTGGACGCTTGAGGATACCCTGCAGTGGTTGATAGAATTTGTTGAACTCCCACAATACGAGAAGAATTTTAGGGATAATAATGTGAAAGGAAC |
| Tnfa | NM_012675.2 | GGTGATCGGTCCCAACAAGGAGGAGAAGTTCCCAAATGGGCTCCCTCTCATCAGTTCCATGGCCCAGACCCTCACACTCAGATCATCTTCTCAAAACTCG |
| Trem2 | NM_001106884.1 | TCCGGCTGGCTGAGGAAGGGTGCCATGGAACCTCTCCACGTGTTTGTCCTGTTGCTGGTCACAGAGCTGTCCCAAGCCCTCAACACCACAGTGCTGCAGG |
Myelin phagocytosis and ROS production
Myelin was isolated by homogenizing adult rat brains (weighing 1.95–2.10 g) in iso-osmotic buffer, followed by sucrose gradient centrifugation [30]. The myelin concentration was calculated from the total protein concentration, using the Pierce bicinchoninic acid (BCA) assay (Thermo Fisher Scientific, Waltham, MA), and adjusted as required. Myelin was labeled in the dark with the lipophilic dye, 1,1′-dioctadecyl-3,3,3′,3′-tetramethyl-indocarbocyanine perchlorate (DiI) (Molecular Probes, Burlington, ON, Canada) (1:200; ≥2 min, 37 °C), as is commonly done for phagocytosis studies [10, 31]. Microglia were seeded at 7–8 × 104 cells per 15-mm glass coverslip. They were cultured for 1–2 days without complement proteins [32] by using 2 % heat-inactivated FBS at 37 °C, 5 % CO2, and then incubated with DiI-labeled myelin. Extracellular myelin was removed by washing with standard bath solution (for phagocytosis and ROS assays), Trizol reagent (for RNA isolation) or fixative (for fluorescence microscopy). The cells were plated at the same high density, and the plate reader was configured to measure fluorescence intensity at the bottom of the plate. At the end of every experiment, we monitored the cell health and saw no evidence of damage, death, or obvious differences in cell numbers.
Myelin phagocytosis was first optimized by incubating microglia with 5, 25, or 50 μg/mL myelin for 6 h or with 25 μg/mL myelin for 1, 3, or 6 h. Phagocytosis of DiI-labeled myelin fragments was verified by fluorescence microscopy in microglia that were fixed in 4 % paraformaldehyde (10 min, room temperature) and stained with FITC-conjugated tomato lectin (1:500, 15 min; Sigma-Aldrich, Oakville, ON) and the nuclear stain, 4′,6-diamidino-2-phenylindole (DAPI; 1:3000, 5 min; Cayman Chemical, Ann Arbor, Michigan). After washing (three times, 5 min), cells on coverslips were mounted on glass slides with Dako mounting medium (Dako, Glostrup, Denmark) and stored in the dark at 4 °C until images were acquired with an Axioplan 2 wide-field epifluorescence microscope equipped with an Axiocam HR digital camera (both from Zeiss, Toronto, ON, Canada).
An earlier study of murine microglia showed that myelin debris was internalized within 1 h and accumulated in LAMP-1-positive lysosomes, presumably targeted for degradation [
10
]. We verified that unstimulated (control) rat microglia rapidly phagocytose myelin fragments under the present conditions. At 25 μg/mL myelin, uptake was substantial by 3 h, and by 6 h, DiI-labeled myelin fragments had accumulated mainly in the perinuclear region, with a small amount in other cell regions (Fig.
1a
). For the remaining study, we chose a 6-h incubation with 25 μg/mL myelin. The washing procedure effectively removed extracellular myelin debris (Fig.
1a
); thus, we could use a multi-label fluorescence plate reader to quantify myelin phagocytosis.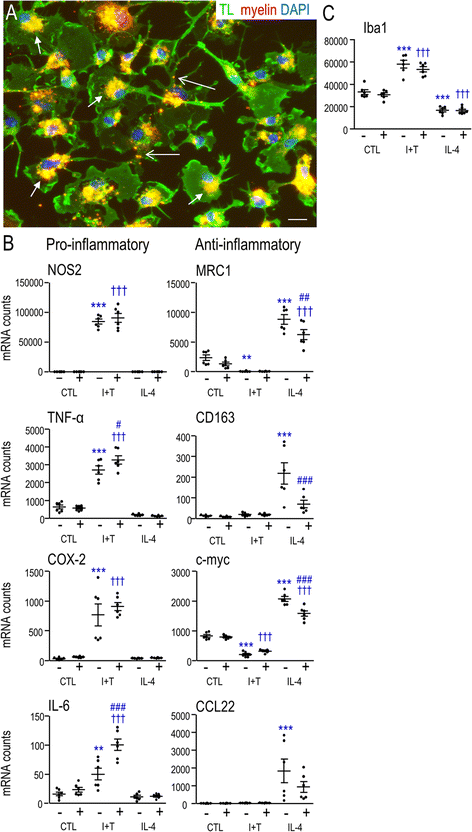 To quantify ROS, microglia were incubated (1 h, 37 °C, 5 % CO2) with the membrane-permeant probe, a chloromethyl derivative of 2′,7′-dichlorodihydrofluorescein diacetate (CM-H2DCFDA; 5 μM; Invitrogen). The probe is cleaved by intracellular esterases to release H2DCFDA, which is then oxidized to a fluorescent compound, dichlorodihydrofluorescein (DCF) that remains trapped in the cells. DCF (495 nm excitation, 525 nm emission) is a general ROS probe that is compatible with DiI-labeled myelin (553 nm excitation, 570 nm emission), thus allowing myelin phagocytosis and ROS production to be monitored in the same samples. Extracellular CM-H2DCFDA and myelin fragments were removed by washing the coverslips with standard bath solution, which contained (in mM) 125 NaCl, 5 KCl, 1 CaCl2, 1 MgCl2, 10 HEPES, and 5 D-glucose (pH 7.4; 290–300 mOsm). As a positive control for ROS production, microglia were occasionally stimulated for 1 h with the PKC activator, phorbol 12-myristate 13-acetate (PMA; 100 nM, Sigma), which produced a robust DCF signal (not shown).
To assess contributions of the ion channels, we used well-known blockers at concentrations that we previously validated are sufficient to block the channels in primary rat microglia. As before, there was no toxicity at the concentrations used. KCa3.1 (also known as IK1, SK4) was blocked with 1-[(2-chlorophenyl) diphenylmethyl]-1H-pyrazole (TRAM-34; 1 μM; Sigma) as before [24, 27, 33, 34]. Kir2.1 was blocked with N-[(4-methoxyphenyl)methyl]-1-naphthalene-methanamine hydrochloride (ML133; 20 μM; Tocris Bioscience, MO) as in our recent study [35]. Kv1.3 was blocked with 5-nM agitoxin-2 (Sigma) as before [36–38]. CRAC channels were blocked with N-[4-[3,5-bis(trifluoromethyl)-1H-pyrazol-1-yl]phenyl]-4-methyl-1,2,3-thiadiazole-5-carboxamide (BTP2; 10 μM; EMD Millipore, San Diego, CA). We previously showed that 10 μM BTP2 blocks Ca2+ signaling through CRAC [33, 35]. Stock solutions were made in sterile double distilled water (agitoxin-2) or DMSO (TRAM-34, ML133, BTP2) and stored at –20 °C. When used, the channel blockers were applied together with myelin.
Statistical analysis
All graphical data are presented as mean ± standard error of the mean (SEM) for the n values indicated. The statistical significance of results was analyzed with a one- or two-way analysis of variance (ANOVA) and post hoc analysis as indicated in the figure legends. Results were considered significant if p < 0.05
Discussion
This study used gene profiling and functional analyses to examine relationships between microglial activation states, myelin phagocytosis and ROS production, and the role of selected ion channels in these processes. Because the treatments and outcomes examined were complex, for clarity in comparing with previous studies, the salient findings will be discussed under four topics: (1) outcomes of single stimuli used to polarize microglia to different activation states, (2) effects of myelin phagocytosis on their activation state, (3) attempts to re-polarize microglial activation, and (4) expression and contributions of the ion channels in different activation states.
Conclusions
Experimental strategies for treating acute CNS injury increasingly address inflammation, often targeting pro- or anti-inflammatory states in a generalized manner. Some preclinical studies target innate immune cells (microglia, macrophages, neutrophils) more selectively, but it is crucial to investigate potential targets in different cell activation states. Further specificity in target selection will be necessary because some products and functions can be either detrimental or beneficial, as is the case for phagocytosis. In CNS disease and injury states where white matter is damaged, efficient re-myelination requires that microglia remove myelin debris from affected axons. Therefore, treatment strategies should preserve microglial phagocytosis while reducing harmful inflammatory responses.
Here, we investigated numerous molecular and functional changes in rat microglia skewed to different M1 and M2 activation states. Our results illustrate several complex outcomes that should be considered in pursuing strategies to target microglia. For instance, the M1 state increased phagocytosis of myelin debris, which could aid in tissue repair, but NOX-mediated ROS production was also increased, which might damage bystander cells. Myelin phagocytosis exacerbated M1 activation, decreased M2 activation, and evoked more NOX-mediated ROS production, suggesting a positive-feedback network that might increase damage. Using sequential cytokine addition to model changing activation cues after acute CNS injury, we asked whether microglia can be re-polarized from one activation state to another. Qualitative molecular re-polarization was seen between M1 and M2a states with the paradigms used, which supports attempts to re-program the inflammatory response in vivo. Moreover, because both M1→M2 and M2→M1 paradigms increased myelin phagocytosis, it might be possible to maintain efficient debris clearance while therapeutically altering inflammatory mediators to a less toxic mix.
Ion channels are increasingly proposed as molecular targets for controlling CNS inflammation. This study contributes information about channel expression and functional contributions that should be taken into account. While Kv1.3 and KCa3.1 expression were affected by the microglial activation state, neither channel contributed to myelin phagocytosis. Thus, Kv1.3 and KCa3.1 blockers might be useful for reducing inflammation without preventing beneficial debris clearance. On the other hand, Kir2.1 and CRAC channels facilitated myelin phagocytosis in all activated states, suggesting that stimulating their activity might aid in debris clearance. However, our results also suggest that facilitating these channels will also increase ROS production whenever an M1 stimulus is present, and this could damage bystander cells.
This study greatly extends our knowledge by examining effects of single versus sequential addition of M1- and M2-inducing cytokines. Results on myelin phagocytosis and consequent ROS production are most relevant to diseases involving white matter damage, such as spinal cord injury, stroke, hemorrhage, brain trauma, MS, and ALS. However, results concerning the inflammatory profile, expression of phagocytosis-related receptors, ROS-related molecules, and ion channels will be broadly applicable to CNS injury and disease.
Abbreviations
CD:

cluster of differentiation
CNS:

central nervous system
CR3:

complement receptor 3
CRAC:

calcium release activated calcium
DAG:

diacylglycerol
DCF:

dichlorodihydrofluorescein
DiI:

1,1′-dioctadecyl-3,3,3′,3′-tetramethylindocarbocyanine perchlorate
FBS:

fetal bovine serum
HEPES:

4-(2-hydroxyethyl)-1-piperazineethanesulfonic acid
IFN-γ:

interferon gamma
IL:

interleukin
IP3 :

inositol trisphosphate
LAMP-1:

lysosome-associated membrane glycoprotein-1
LPS:

lipopolysaccharide
MEM:

minimum essential medium
MTMR6:

myotubularin related protein 6
NADPH:

nicotinamide adenine dinucleotide phosphate
NOX:

NADPH oxidase
PI3K:

phosphoinositide-3-kinase
PIP2:

phosphotidylinositol bisphosphate
PLC:

phospholipase C
PMA:

phorbol myristate acetate
RNA:

ribonucleic acid
ROS:

reactive oxygen species
RT-PCR:

reverse transcription-polymerase chain reaction
SIRPα:

signal regulatory protein alpha
SOCE:

store operated calcium entry
SR-A:

scavenger receptor-A
STIM:

stromal interaction molecule
TIM-3:

T-cell immunoglobulin and mucin-domain containing 3
TNF-α:

tumor necrosis factor alpha
TREM2:

triggering receptor expressed on myeloid cells 2
Declarations
Acknowledgements
The authors thank Xiaoping Zhu and Raymond Wong for preparing mixed glial cell cultures for microglia isolation. The work was supported by grants to LCS from the Canadian Institutes for Health Research (MOP 119578), the Heart and Stroke Foundation of Canada (00493), and by the Toronto General/Toronto Western Research Foundation.
Open AccessThis article is distributed under the terms of the Creative Commons Attribution 4.0 International License (http://creativecommons.org/licenses/by/4.0/), which permits unrestricted use, distribution, and reproduction in any medium, provided you give appropriate credit to the original author(s) and the source, provide a link to the Creative Commons license, and indicate if changes were made. The Creative Commons Public Domain Dedication waiver (http://creativecommons.org/publicdomain/zero/1.0/) applies to the data made available in this article, unless otherwise stated.
Authors' Affiliations
(1)
Genes and Development Division, Krembil Research Institute, University Health Network, Toronto, Canada
(2)
Department of Physiology, University of Toronto, Toronto, Canada
(3)
Krembil Discovery Tower, Krembil Research Institute, Toronto, Canada