Inflammatory signature of cerebellar neurodegeneration during neonatal hyperbilirubinemia in Ugt1 -/- mouse model
Journal of Neuroinflammation
2017
14:64
Received: 21 July 2016
Accepted: 12 March 2017
Published: 24 March 2017
Abstract
Background
Severe hyperbilirubinemia is toxic during central nervous system development. Prolonged and uncontrolled high levels of unconjugated bilirubin lead to bilirubin-induced neurological damage and eventually death by kernicterus. Bilirubin neurotoxicity is characterized by a wide array of neurological deficits, including irreversible abnormalities in motor, sensitive and cognitive functions, due to bilirubin accumulation in the brain. Despite the abundant literature documenting the in vitro and in vivo toxic effects of bilirubin, it is unclear which molecular and cellular events actually characterize bilirubin-induced neurodegeneration in vivo.
Methods
We used a mouse model of neonatal hyperbilirubinemia to temporally and spatially define the response of the developing cerebellum to the bilirubin insult.
Results
We showed that the exposure of developing cerebellum to sustained bilirubin levels induces the activation of oxidative stress, ER stress and inflammatory markers at the early stages of the disease onset. In particular, we identified TNFα and NFKβ as key mediators of bilirubin-induced inflammatory response. Moreover, we reported that M1 type microglia is increasingly activated during disease progression.
Failure to counteract this overwhelming stress condition resulted in the induction of the apoptotic pathway and the generation of the glial scar. Finally, bilirubin induced the autophagy pathway in the stages preceding death of the animals.
Conclusions
This study demonstrates that inflammation is a key contributor to bilirubin damage that cooperates with ER stress in the onset of neurotoxicity. Pharmacological modulation of the inflammatory pathway may be a potential intervention target to ameliorate neonatal lethality in Ugt1 -/- mice.
Keywords
Ugt1a1Crigler-Najjar syndromeAstrocytesMicrogliaOxidative stressAutophagyApoptosisER stress
Background
Neonatal unconjugated hyperbilirubinemia is a common condition occurring in more than 60% of term newborns [1, 2] and almost all pre-term babies [3]. It is the result of the increased bilirubin production, mainly due to the high turnover of erythrocytes occurring after birth, and the delayed induction of the Ugt1a1 enzyme. It is usually considered a benign condition, but other concomitant causes may lead to uncontrolled acute hyperbilirubinemia [4, 5]. Prolonged high bilirubin levels are life threatening and often lead to permanent brain damage and death by kernicterus [6].
The incidence of kernicterus increases in underdeveloped and developing countries [5], and death by kernicterus is ranked as one of the three top causes of death among African newborns [7]. Clearly, the detailed identification of the neurological events and molecular targets triggering bilirubin neurotoxicity will help the understanding and management of this disease. To this aim, many in vitro and in vivo studies were carried out to increase the understanding of bilirubin neurotoxicity (for a review see [8]).
It has been shown that the free fraction of unbound bilirubin (Bf) causes neurotoxicity in vivo, and that the decrease of Bf by albumin supplementation increases neuro-protection and survival of the mutant mice and rats [9, 10].
Several studies using primary culture of neurons, glia cells or astrocytes, and neuronal-derived cell lines, showed that the sensitivity to bilirubin differs among cell types [11–14]. Moreover, bilirubin toxicity manifests in particular brain developmental stages, with less differentiated/immature neurons being more susceptible [15]. We showed in the Ugt1 -/- mice that neurotoxicity is cell specific, being the Purkinje cells (PCs) the most affected neuron in the cerebellum [16–18].
By differential proteomic analysis of affected cerebella, we showed that bilirubin affects antioxidant defences reducing the overall capacity of neurons to tackle toxicity [18]. This observation was in line with in vitro experiments using primary cultures of neurons [19] and immortalized hepatoma cell lines [20, 21].
In addition, toxic levels of bilirubin induce an inflammatory response through the release of pro-inflammatory cytokines and the activation of MAPK pathway in astrocytes and microglial cells primary cultures [22, 23], leading to cell death. Moreover, high bilirubin levels induce oxidative stress and activate the P38 MAPK pathway in vivo and in vitro [18, 24, 25]. Likewise, in a Ugt1a humanized mouse model, Yueh et al showed that glia activation and oxidative stress are hallmarks of bilirubin-induced toxicity, being Toll-like receptor 2 (TLR2) a key player of bilirubin-mediated inflammatory response [26].
However, a time course study of the molecular events leading to bilirubin neurotoxicity in vivo is still missing. To this aim, we took advantage of the mouse model of severe neonatal hyperbilirubinemia generated in our lab [16, 17]. Ugt1 -/- mice reproduce the major features of neonatal hyperbilirubinemia. In fact, consequent to the absence of Ugt1a1 bilirubin-glucuronidation activity in Ugt1 -/- mice [16], total plasma bilirubin levels rise immediately after birth leading to important cerebellar damage, cerebellar hypoplasia and early death by kernicterus, with 50% mortality at post-natal day 11 (P11) and no survivors after P14 [17].
Using temporary phototherapy (PT) treatment during the neonatal period, we identified a critical window of neuronal susceptibility to bilirubin toxicity, corresponding to post-natal day 8 [17]. We showed that the degree of bilirubin damage correlates with the developmental stage of the cerebellum, being the early phases the more susceptible.
Based on the previous findings, in this study, we made a step forward aiming to investigate the temporal progression of the molecular and cellular events leading to bilirubin-induced neurodegeneration in the Ugt1 -/- mouse model of neonatal hyperbilirubinemia.
Methods
Animals
Mice were housed and handled according to institutional guidelines, and experimental procedures approved by the ICGEB board, with full respect to the EU Directive 2010/63/EU for animal experimentation. Ugt1 -/- mice in the FVB/NJ background have been generated previously [17]. Homozygous mutant animals were obtained from heterozygous mating. Male and female pups were used for these studies. WT littermates were used as control. Animals used in this study were at least 99.8% FVB/NJ genetic background, obtained after more than ten backcrosses with wild-type FVB/NJ mice. Mice were kept in a temperature-controlled environment with 12/12-h light/dark cycle. They received a standard chow diet and water ad libitum.
Plasma bilirubin and UCB content measurement
Blood samples were collected at different time points in mutant and WT littermates by decapitation in EDTA-collecting tubes, at the moment of sacrificing the animals, as previously described [17]. Total bilirubin (TB) determination in plasma was performed using Direct and Total Bilirubin Reagent kit (BQ Kits, San Diego, CA) adapting the method to use minimal volumes (10 μl of plasma), as previously described [17].
Tissues for bilirubin content determination were collected and analysed as previously described [27].
Preparation of total RNA from the mouse cerebellum and real-time PCR analysis
Total RNA from mouse cerebellum was prepared using EuroGOLD Trifast (Euroclone, Milano, Italy). One microgram of total RNA was reverse-transcribed, as previously described [18]. Total cDNA (1 μL) was used to perform qPCR using the specific primers listed in Additional file 1. qPCR was performed using the iQ SYBR Green Supermix (Bio-Rad) and a C1000 Thermal Cycler CFX96 Real Time System (Bio-Rad). Expression of the gene of interest was normalized to the Gapdh housekeeping gene. Data were analysed using the ΔΔCt method. All primers are listed in Additional file 1.
Preparation of total protein extracts and western blot analysis
Cerebella were dissected, homogenized in lysis solution buffer (150 mM NaCl, 1% NP-40, 0.5% DOC, 0.1% SDS, 50 mM Tris HCl pH 8, 2× protease inhibitors) and analysed by western blot as described previously [16]. Primary antibodies used were as follows: anti-calbindin 1:2000 (Synaptic Systems, Goettingen, Germany), anti-NeuN 1:2000 (Millipore, Temecula, CA), anti-Glial Fibrillary acidic protein (GFAP) 1:1000 (Sigma, St. Louis, MO), anti-Iba1 1:1000 (Wako, Neuss, Germany), anti-cleaved caspase3 1:500 (Cell Signalling), anti-caspase3 1:800 (Santa Cruz Biotechnology), anti-CHOP 1:1000 (Santa Cruz, sc-56107), anti-HO1 1:1000 (Enzo Life Sciences, ADI-OSA-110) and anti-LC3 1:1000 (Sigma, L7543). Antibody anti-tubulin mAb E7 (Developmental Studies Hybridoma Bank, Iowa City, IA) or anti-Actin (Sigma, A2066) was used for loading control determination. Representative images are shown in the figures. Each timepoint was run in a separate gel.
Brain histology and immunofluorescence
Nissl staining and immunofluorescence analysis of cerebellum samples were performed as previously described [17, 18]. The study was performed in a double-blind fashion: the genotype of the animals was unknown to the operator, while a different investigator analysed the data. Measurements were averaged for each animal.
Briefly, after blocking, specimens were incubated with the primary antibody for 2 h at RT in blocking solution with anti-calbindin 1:400 (Synaptic Systems, Goettingen, Germany), anti-NeuN 1:400 (Millipore, Temecula, CA), anti-glial fibrillary acidic protein, GFAP 1:200 (Sigma, St. Louis, MO), anti-iba1 1:200 (Wako, Neuss, Germany), anti-TNFα 1:100 (sc-1350, Santa Cruz), anti-NFKβ 1:100 (sc-8008, Santa Cruz), anti-MRC1 1:100 (CD206 clone MR5D3, MCA2235GA, BioRad), anti-CD68 1:100 (clone FA-11, BioRad), anti-CHOP 1:100 (GADD153, sc-56107, Santa Cruz), anti-HO1 1:200 (Enzo Life Sciences, ADI-OSA-110), anti-Fas 1:100 (CD95, NB120-13550, Novus Biologicals) and anti-HO1 1:200 (ADI-OSA-110, Enzo Life Sciences). Antigen retrieval with sodium citrate pH6 was performed for CHOP and HO1 immuno-stainings prior to blocking solution step. After 3× 5-min washes with blocking solution, specimens were incubated with secondary antibody (Alexa Fluor 488 or 568; Invitrogen Carlsbad, CA) for 2 h at RT. Nuclei were visualized by addition of Hoechst (10 μg/ml, Invitrogen) for 5 min after secondary antibody solution. Nissl-stained sections were mounted in Eukitt (Fluka, St. Louis, MO, USA) while immunofluorescence (IF) slides were mounted in Mowiol 4-88 (Sigma-Aldrich). Images were acquired on a Nikon Eclipse E-800 epi-fluorescent microscope with a charge-coupled device camera (DMX 1200 F; Nikon Amstelveen, The Netherlands). Digital images were collected using ACT-1 (Nikon) software.
Analysis of the layer thickness was performed on Nissl-stained sections by measuring the layer depth (μm) as previously described [16]. PC density analyses were performed as previously described [16, 17].
Statistics
The Prism package (GraphPad Software, La Jolla, CA) was used to analyse the data. Results are expressed as mean ± S.D. Values of p < 0.05 were considered statistically significant. Depending on the experiment, Student's t test or two-way ANOVA, with Bonferroni's post hoc comparison tests, were used, as indicated in the legends to the figures and text. Correlation analyses were done using the Pearson coefficient to assess the linearity between two variables and calculate two-tailed p value (95% of confidence interval).
Results
To better dissect the mechanisms leading to bilirubin neurotoxicity, we analysed three sequential time points: P5 at the onset of the pathology; P8 as a more advanced pathological condition, in which lethality is partially reversible by phototherapy (PT) application in a low proportion of mice [
17
]; and finally P10, as the latest and most severe phase, just one day before reaching 50% mortality [
17
].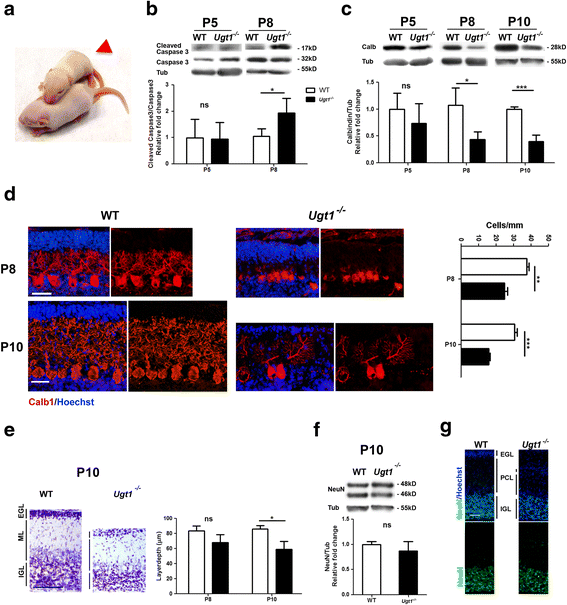 Discussion
Unveiling the mechanisms operating at the onset of a given disease is essential to develop potential pharmacological therapies against bilirubin-induced brain damage.
Our data indicate that long-term exposure of the developing cerebellum to high bilirubin levels induces the concomitant activation of different mechanism, ranging from inflammation to ER stress. In particular, we observe that the inflammatory response plus ER stress are activated in the early stages of the disease onset and, in turn, they affect survival of developing neurons. At last, bilirubin-induced neurotoxicity stimulates the autophagy pathway (Fig.
9a
).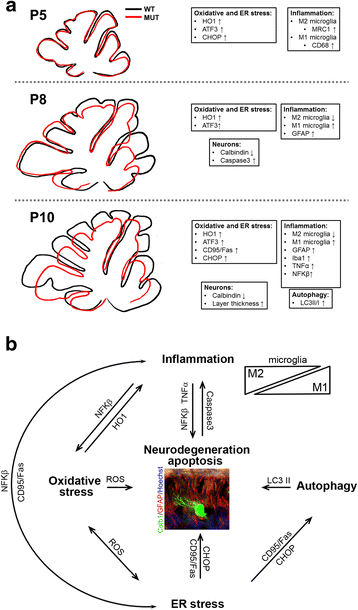 In the following sections, we will discuss in detail the interplay between the major players identified in the present work (Fig. 9b) and provide possible future directions.
Conclusions
The dissection of the molecular mechanisms operating at the onset of neonatal hyperbilirubinemia revealed that different pathways are simultaneously regulated in response to the bilirubin insult, rather than being activated in a sequential time frame. Inflammation, together with ER stress, appear to be the leading processes resulting in neurodegeneration. The more precise understanding of the molecular interactions is crucial to set up therapeutic strategies.
To this respect 4-phenylbutyrate (4-PBA), an ER stress inhibitor, has been shown to reduce ER stress and neurodegeneration in a mouse model of Parkinson's disease and tissue culture cells treated with bilirubin [36, 68]. Moreover, minocycline, a tetracycline with anti-inflammatory properties has been used in many neurodegenerative diseases to reduce inflammation and ameliorate the outcome of the disease [69], and in the Gunn rat, it reduced cerebellar abnormalities [24]. Administration of minocycline to juvenile Gunn rats resulted in the prevention of acute brainstem auditory evoked potential abnormalities produced by sulfadimethoxine [70, 71]. The concept that several components participate in the response to bilirubin neurotoxicity is supported by the observation that the treatment with antioxidants of Gunn rats having sulfadimethoxine-induced encephalopathy was not sufficient to reduce BIND. On the contrary, minocycline, a molecule with multiple properties in addition to the antioxidant effect, was able to prevent BIND [46]. It remains to be tested if the use of these compounds will ameliorate neurodegeneration and increase survival of the lethal mouse model presented in this study.
Further studies are needed to demonstrated whether modulation of one or more of them are required to reduce neurodegeneration and death, before this knowledge could be translated to patients.
Abbreviations
4-PBA:

4-phenylbutyrate
Arg1:

Arginase 1
ATF3:

Activating transcription factor 3
Bf:

Free fraction of unbound bilirubin
BIND:

Bilirubin-induced neurological dysfunction
CD68:

Cluster of differentiation 68
CD86:

Cluster of differentiation 86
CD95:

Cluster of differentiation 95
Cyp1a2:

Cytochrome P450 family 1 subfamily A member 2
Cyp2a5:

Cytochrome P450 family 2 subfamily A member 5
EGL:

External germinal layer
ER:

Endoplasmic reticulum
GCs:

Granule cells
GFAP:

Glial fibrillary acidic protein
HO1:

Heme oxygenase 1
Iba1:

Ionized calcium-binding adapter molecule 1
IF:

Immunofluorescence
IGL:

Internal granular layer
IL18:

Interleukin 18
IL1β:

Interleukin 1β
LC3:

Microtubule-associated protein 1A/1B-light chain 3
ML:

Molecular layer
MMP2:

Matrix-metallo-protease 2
MMP9:

Matrix-metallo-protease 9
MRC1:

Mannose receptor, C type 1
MRC2:

Mannose receptor, C type 2
NFKβ:

Nuclear factor kappa-light-chain-enhancer of activated B cells
nNOS:

Neuronal nitric oxide synthase
Nrf2:

Nuclear factor (erythroid-derived 2)-like 2
P:

Post-natal day
PCR:

Polymerase chain reaction
PCs:

Purkinje cells
PT:

Phototherapy
TNFα:

Tumor necrosis factor alpha
Ugt1a1:

UDP glucuronosyltransferase family 1 member A1
WB:

Western blot
Declarations
Acknowledgements
The authors thank Prof. E. Tongiorgi for the microscope facility resources and the bioExperimentation Facility for help with animal care.
Funding
This work was supported by Telethon (GGP10051), by Friuli-Venezia Giulia Regional Grant and by Beneficentia Stiftung to A. F. Muro (ICGEB), by AXA Research Fund to G. Bortolussi (ICGEB), and by the Czech Ministry of Health (RVO VFN64165) and Czech Ministry of Education (KONTAKT LH15097) to L. Vitek.
Availability of data and materials
All data generated or analysed during this study are included in this published article.
Authors' contributions
S.V. and G.B. carried out the experiments. S.V., J.J. and L.V. determined bilirubin in tissues. G.B. and A.F.M conceived the experiments, analysed the data and wrote the paper. All authors revised the final manuscript and had final approval of the submitted and published versions.
Competing interests
The authors declare that they have no competing interests.
Consent for publication
Not applicable.
Ethics approval
Mice were housed and handled according to institutional guidelines, and experimental procedures are approved by the ICGEB board, with full respect to the EU Directive 2010/63/EU for animal experimentation.
Publisher's Note
Springer Nature remains neutral with regard to jurisdictional claims in published maps and institutional affiliations.
Open AccessThis article is distributed under the terms of the Creative Commons Attribution 4.0 International License (http://creativecommons.org/licenses/by/4.0/), which permits unrestricted use, distribution, and reproduction in any medium, provided you give appropriate credit to the original author(s) and the source, provide a link to the Creative Commons license, and indicate if changes were made. The Creative Commons Public Domain Dedication waiver (http://creativecommons.org/publicdomain/zero/1.0/) applies to the data made available in this article, unless otherwise stated.
Authors' Affiliations
(1)
International Centre for Genetic Engineering and Biotechnology (ICGEB), Trieste, Italy
(2)
Institute of Medical Biochemistry and Laboratory Medicine, First Faculty of Medicine, Charles University, Prague, Czech Republic
(3)
Fourth Department of Internal Medicine, First Faculty of Medicine, Charles University, Prague, Czech Republic